Blockpour 2.0 and the Alpha Pro Subscription
Introducing Blockpour 2.0 - our fully revamped Web3 data platform is officially out of beta and upgraded with a vast array of new tools and features designed to help you make smarter trading decisions! To go along with the upgrades, we are launching our brand new Alpha Pro subscription that unlocks the full potential of Blockpour.
This isn't just an upgrade - it's a new way to navigate the crypto landscape. Augmented by an intuitive design and an enhanced user experience, our platform makes hunting for trading alpha easier than ever.
What do you get with Alpha Pro?
For starters, subscribers gain complete access to our upgraded database, meticulously curated to provide you with unparalleled coverage and insights:
3Bn on-chain events
770K liquidity pools
450K tokens
2K+ DEXes
9 networks
Leverage and analyze this data across a powerful suite of tools and features designed to help you uncover potential trading opportunities.
Spot surging tokens with Top Movers
Our revamped Top Movers tool, combined with our enhanced filtering capabilities, allows you to cut through the noise and pinpoint tokens poised for significant activity. This tool facilitates multi-chain exploration and analysis to identify promising opportunities across networks with accuracy.
With an Alpha Pro subscription, users can now filter to view all tokens, or narrow down their search for stablecoins, native tokens, or even altcoins. Powerful sorting options allow users to find memecoins or other promising prospects with surging activity, and a low number of unique traders.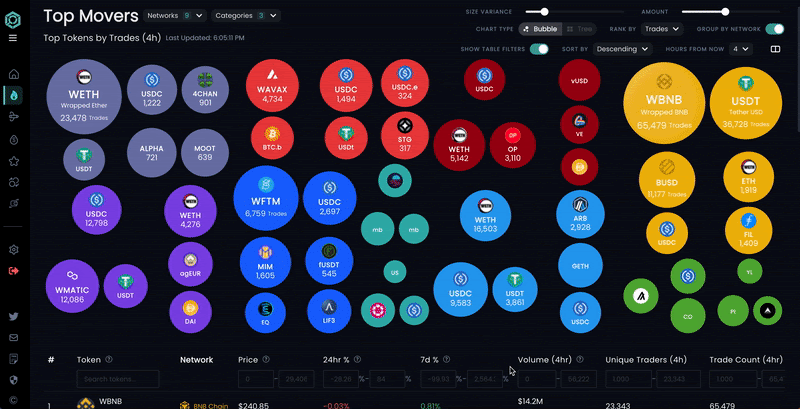 Use the filters to narrow your search on the Top Movers tool.
Reveal capital movements with Entity Flows
With Entity Flows, monitor on-chain ERC-20 token movements of significant players such as whales, centralized exchanges (CEXes), and funds. This unprecedented insight into market mover trading activity allows you to analyze large entities' token investment behaviors and trading patterns.
Use Entity Flows to track and act on market trends before they become apparent to the broader market.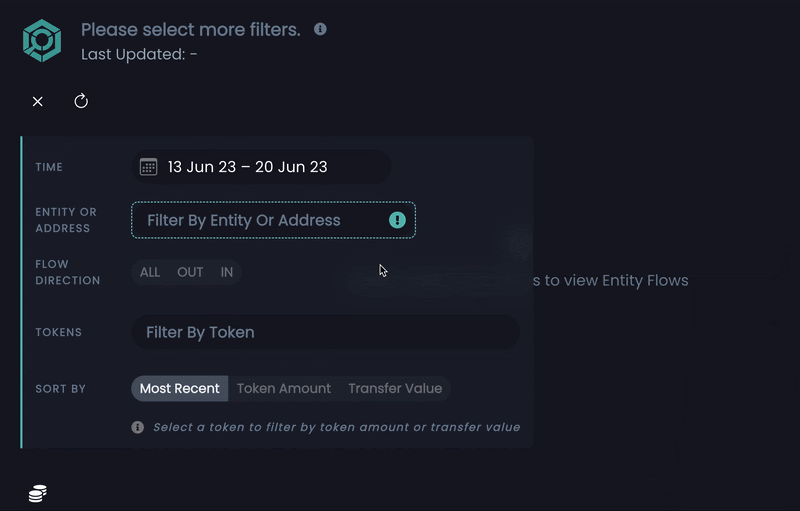 Find the entity you want or insert an Ethereum wallet address with Entity Flows.
Spot trends with Token Flows
With the Token Flows tool, users can gauge market sentiment regarding specific tokens and comprehend where assets are flowing. By analyzing volume trends, you can identify tokens experiencing notable movement and garnering attention from traders.
This exclusive intel allows you to seize opportunities by anticipating market shifts before the rest of the market reacts.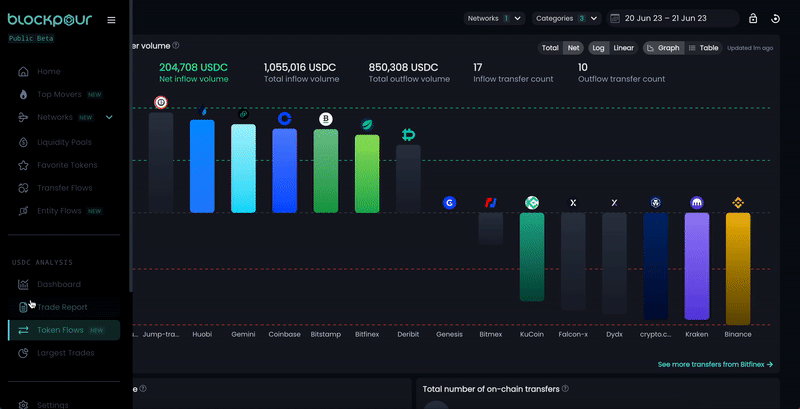 Track on-chain transfer volume and flows of ERC-20 tokens.
Gain a panoramic market View with Network Pulse
With its multi-chain capabilities, Network Pulse enables you to stay plugged into the pulse of the rapidly evolving DeFi landscape and identify which networks are currently favored by traders.
Use the multi-chain explorer to view aggregated trading statistics across all networks, or drill down into individual networks with the single-chain explorer. Explore vital network activity metrics to vastly enhance your trading research. Network Pulse is the key to unlocking a comprehensive understanding of the crypto market and its shifting dynamics.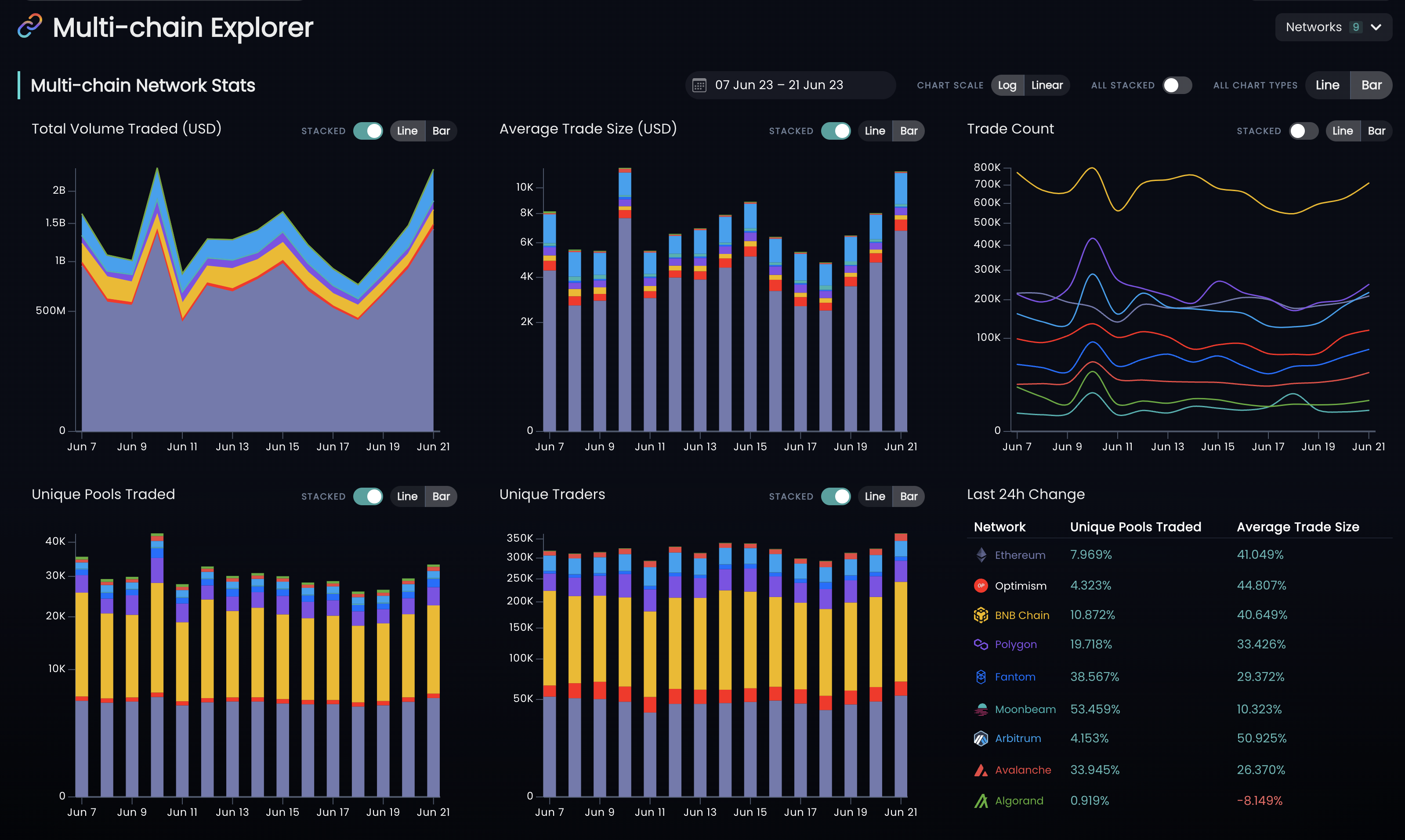 View metrics on all the networks Blockpour tracks with the Network Pulse.
Revamped Token Dashboard: a powerhouse of insights
Additionally, the Alpha Pro subscription grants full access to our upgraded Token Dashboards for over 457K+ tokens, providing all-new features to track token performance.
Uncover deeper insights with fresh new data points on the new Token Dashboards such as market cap, token metadata, and hourly token transfer counts for ERC-20 digital assets such as $USDC so you can strategize your trades with precision.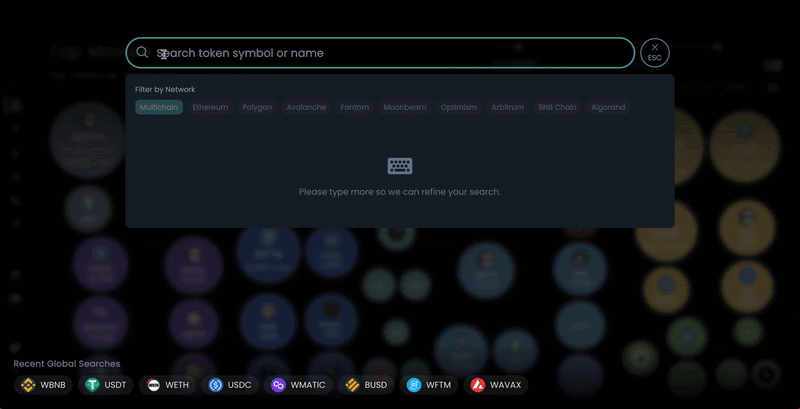 Search for a token to find its respective Token Dashboard.
Streamlined user interface and customizable home page
Lastly, our revamped UI simplifies access to real-time insights. Personalize your home page to focus on crucial metrics, navigate complex data with intuitive new tooltips, and utilize multi-chain filters for cross-network analysis.
The dark-themed homepage highlights Web3 data, with color-coded widgets enhancing readability. Customize widgets such as network stats, liquidity activities, and stablecoin movements so you can track the metrics most important to you.
Dive into the new Blockpour experience that puts control at your fingertips.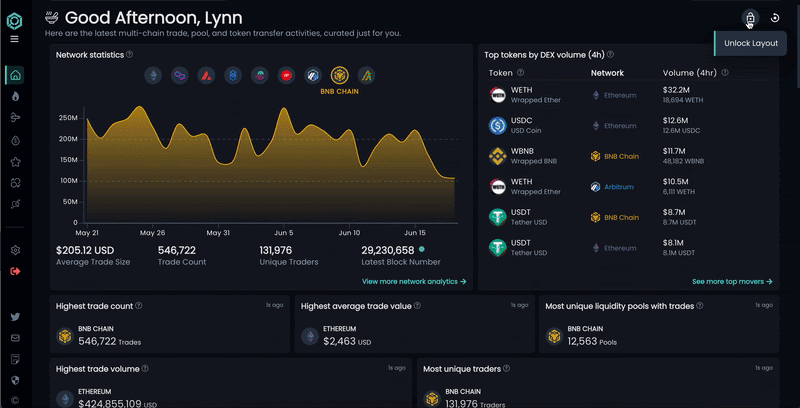 Unlock the widgets to change the look and feel of your homepage.
Embrace the full power of Blockpour with Alpha Pro
Ready to maximize your trading strategy? Unlock the full potential of Blockpour 2.0 by subscribing to the Alpha Pro subscription. Enjoy unrestricted access to all cutting-edge metrics, advanced filters, and invaluable tools designed to amplify your trading insights.
To celebrate our launch, we're offering the Alpha Pro subscription at an irresistible introductory price of $29.99/month for the first six months.
Slots are limited at this unbeatable price, so subscribe now to secure this deal!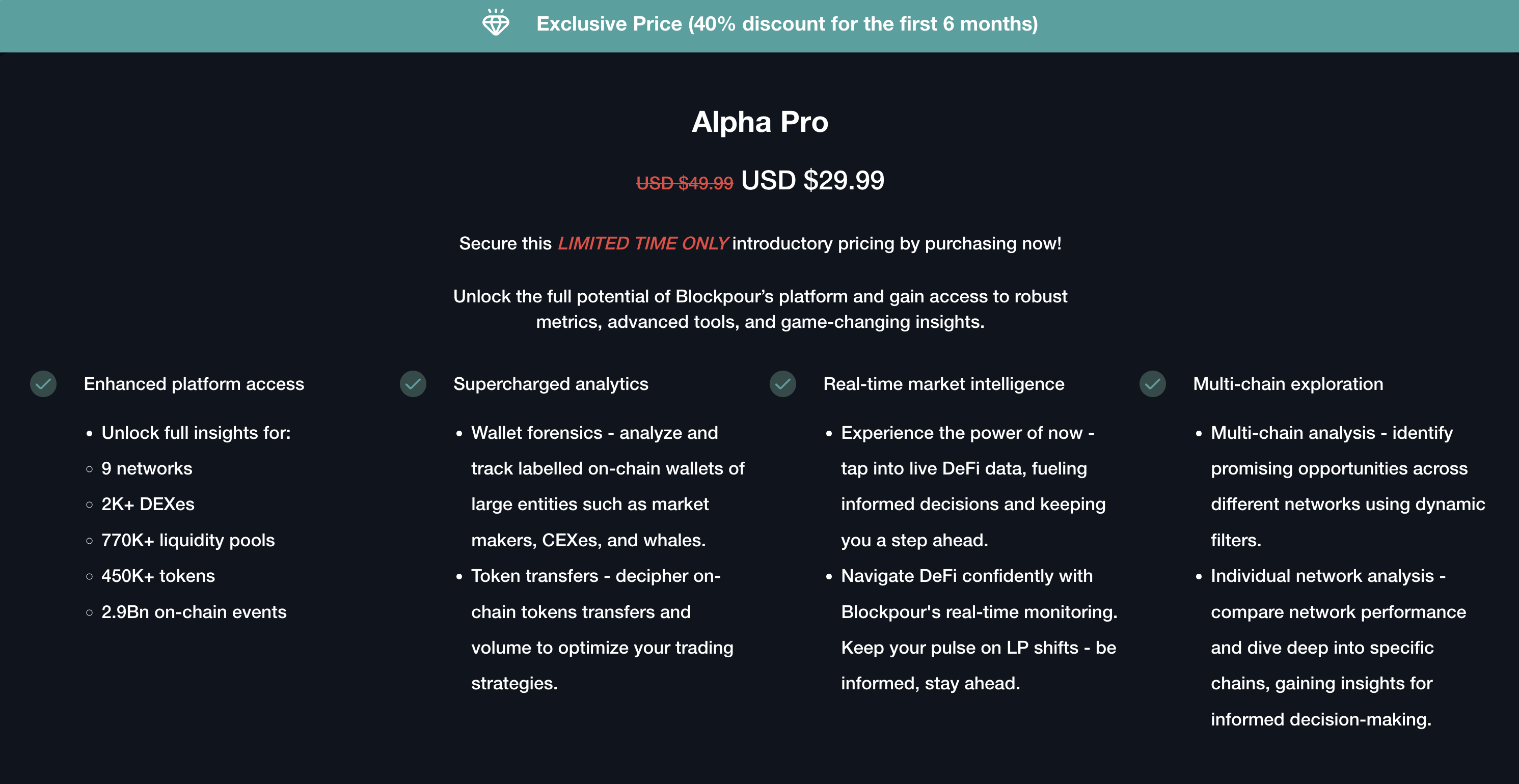 The Alpha Pro subscription tier will be available at a discounted price for a limited time.
Step into the future of crypto trading with Blockpour 2.0. We don't just provide data; we empower you with the edge you need to succeed in the crypto landscape.
Propel your trading to new heights with Blockpour 2.0 and discover actionable alpha now!
Blockpour is a technology firm specializing in Web3 data and analytics, offering individuals and businesses indispensable data and tools to navigate the dynamic on-chain universe while bridging seamlessly to the off-chain world.
Through our real-time and historical multi-chain data feeds, businesses and traders can fully unlock the power of blockchain data to inform their strategies, optimize operational efficiency, and drive top-line growth.
The above article is for informational purposes only and is not financial advice. Blockpour is a data aggregation and analytics platform only and does not provide financial advice or services of any kind.