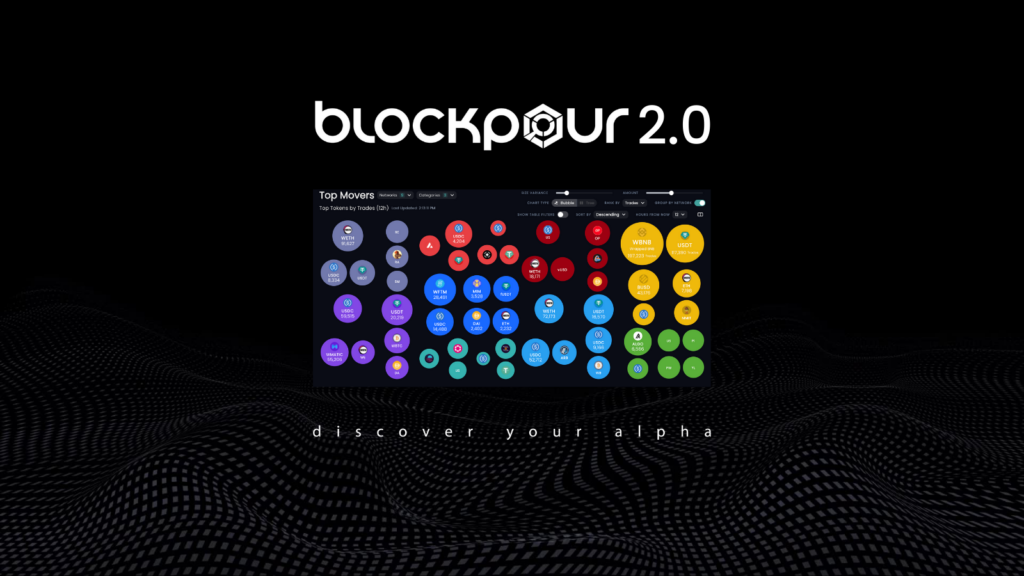 Gain keen insights into the DeFi space with high-powered Blockpour Web3 datasets and a sleek new UI.
At Blockpour, one of our major goals is to simplify the process of discovering actionable alpha. Through our superior UI/UX, we transform aggregated Web3 datasets into unique data and actionable insights that enable businesses and traders to easily identify and seize profitable opportunities in the crypto market.
To deliver these insights effectively, we provide a range of customizable tools to our users. And now, with the upcoming release of Blockpour 2.0, we are thrilled to announce the expansion of our offerings.
The motivation behind building Blockpour was to address the fragmentation of data in the multichain ecosystem that Web3 participants encounter daily. Our platform stands out for its ability to aggregate and index data from blockchain networks more efficiently than our competitors, and the ease in which users can navigate complex datasets.
As the ecosystem grows, the need for systematic data aggregation becomes increasingly crucial. This is where Blockpour's edge becomes apparent, emerging as the superior method for finding alpha in the market.
Blockpour's Web3 datasets and tools
Our tools, such as Top Movers, Transfer Flows, and Top Stablecoin Movement Volume, provide users with a clear, comprehensive view of the crypto market. Top Movers highlights the top trending tokens across all our tracked networks based on a variety of filters. Wallet Recon visualizes token flows between wallets and labeled entities, while Top Stablecoin Movement Volume offers insights into the most active stablecoins.
Navigating the Web3 sphere can be complex, but we believe it doesn't have to be. With Blockpour, participants can easily access all the data and information they need to understand the space from a single platform.
Join us on this journey as we release exciting new features, build industry partnerships, and continue to aggregate data that empowers our users to make informed decisions in the Web3 space. Follow Blockpour to stay updated on our progress and offerings.
Blockpour is a technology firm specializing in Web3 data and analytics, offering individuals and businesses indispensable data and tools to navigate the dynamic on-chain universe while bridging seamlessly to the off-chain world.
Through our real-time and historical multi-chain data feeds, businesses and traders can fully unlock the power of blockchain data to inform their strategies, optimize operational efficiency, and drive top-line growth.
The above article is for informational purposes only and is not financial advice. Blockpour is a data aggregation and analytics platform only and does not provide financial advice or services of any kind.