This edition of Blockpour On-Chain This Week highlights a crypto market movement possibly sparked by Elon Musk.
This week was notably dry, boring, and flat, until a bombshell punctuated the malaise. Although on-chain metrics were on the rise all week, prices were not until SpaceX sold $BTC and sent the market to another level. The popular Shiba Inu ecosystem flubbed a big announcement, but may be back on track, and Paypal entered the chat.
SpaceX Sends Network Metrics to the Moon (Prices Not Included)
We saw metrics across Ethereum, Arbitrum, and Fantom all on a healthy rise each day throughout the week. Trade volumes, average trade sizes, and trade counts were all higher each successive day, especially on Arbitrum. Then, news came out on Thursday that SpaceX sold some Bitcoin, which rocked the markets and sent prices plummeting and metrics to 30-day highs. On the 17th, Ethereum 24-hour trade volume rose 165% to $1.7B and average trade size rose 185% to $6,322. Trade volume rose 177% on Arbitrum to $488.7M.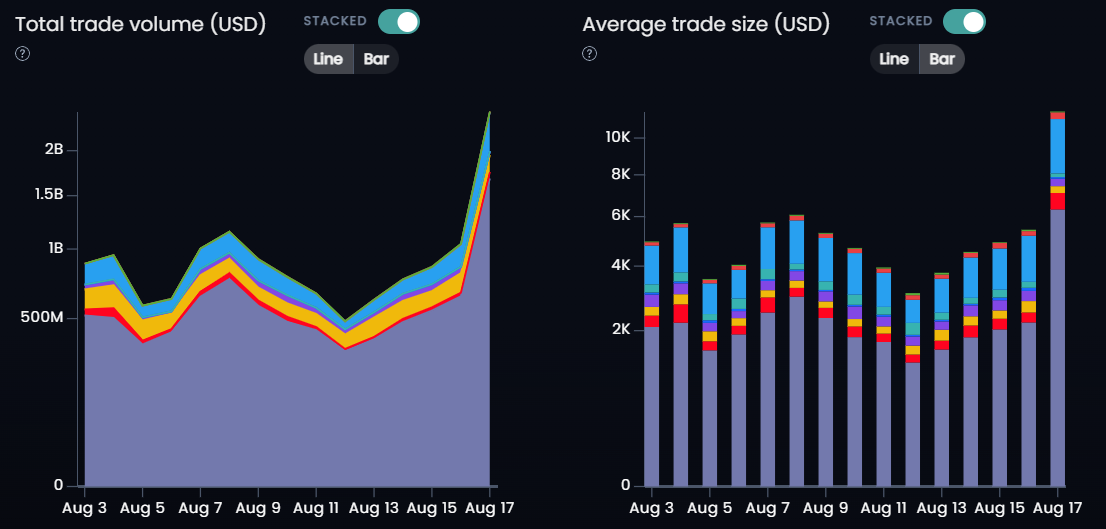 Network metrics rocketed to 30-day highs late in the week.
Shibarium Users Chew on $BONE
On Wednesday and Thursday, the Shibarium network - an Ethereum L2 - was launched by the same guys who brought you $SHIB Shiba Inu. It was supposed to be the centerpiece of an ecosystem that has been adding new dog-themed tokens and applications since $SHIB was launched in 2021 as a meme of the iconic Dogecoin. The network launch was covered by major crypto media, as was the breakdown of its token bridge. Regardless, the ShibaDEX governance token $BONE became one of the top trending tokens on Ethereum at the time with $31M in on-chain trade volume from 3,846 unique traders.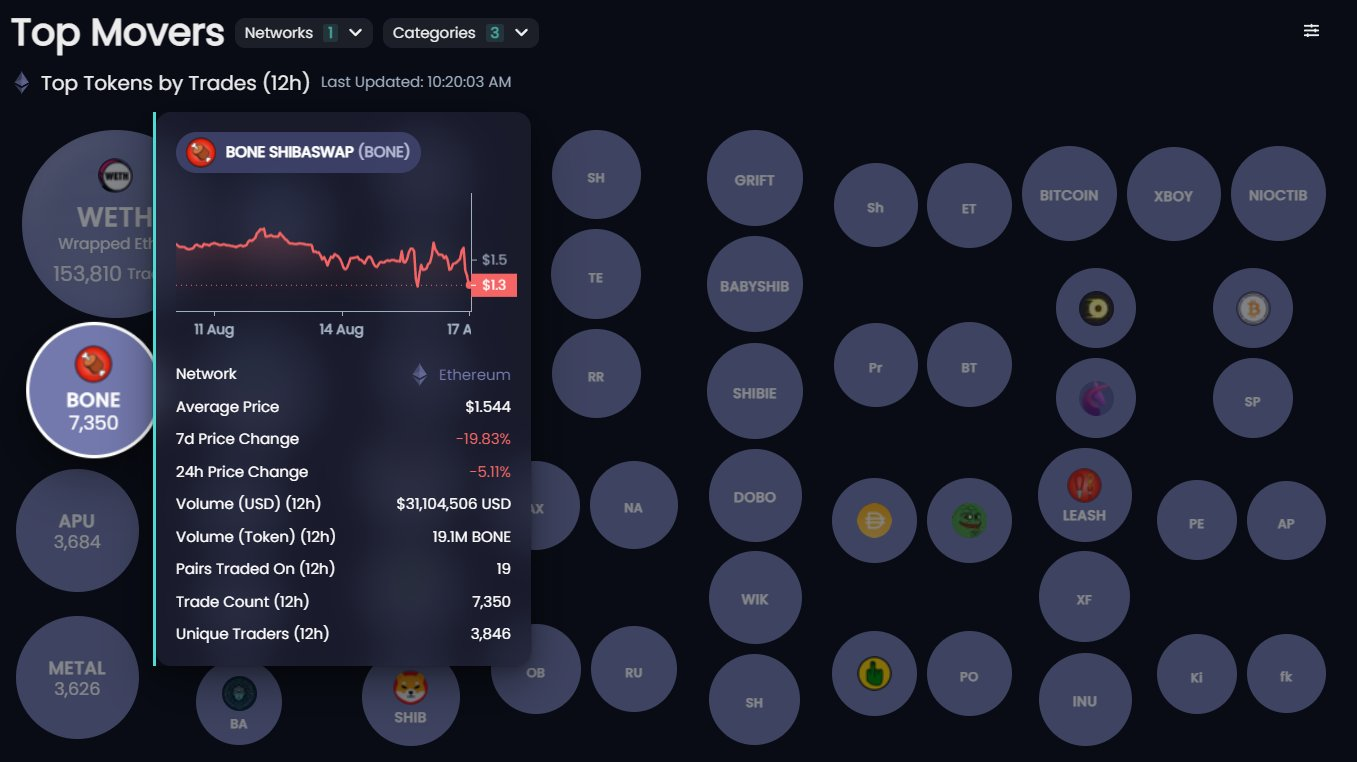 $BONE was one of the top trending tokens mid-week thanks to Shibarium.
The Biggest Movers on Ethereum? Still Memecoins.
Over the past seven days, the biggest movers on Ethereum have yet again been memecoins. Despite the dramatic market movements over the past 24 hours as described above, memecoins still had the biggest price gains. Largest among them were $LINQ - a meme of $LINK, $ETHEREUM- a meme of, well, $ETH, and unironically $SHIBARIUM. Our Top Movers tool is showing these tokens are up as much as 10.6K% on the week.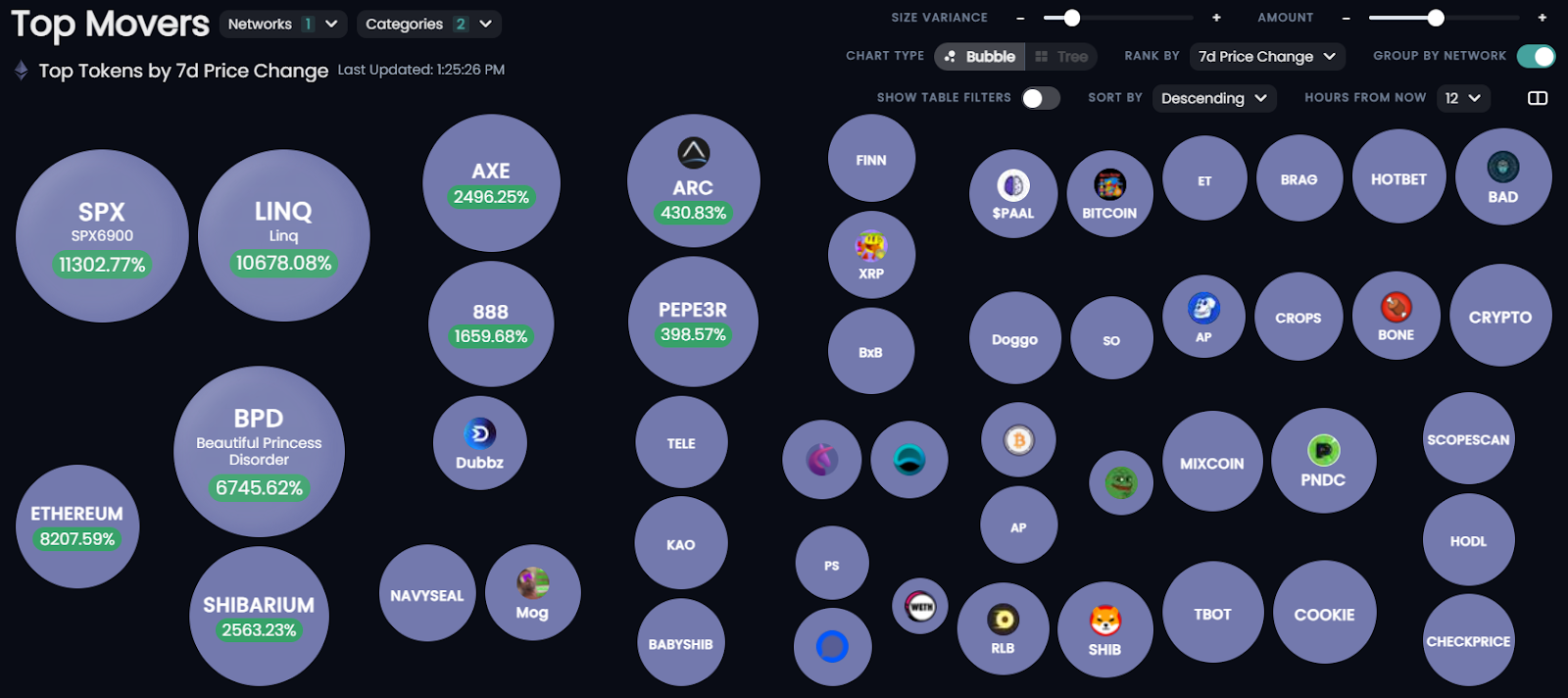 Memecoins remain the top movers on Ethereum through the week.
Let's Talk About CEX: The top ERC-20 tokens transferred at centralized exchanges
This section reviews the ERC-20 token transfer flow trends from the largest centralized exchanges from August 11 - 17, such as Binance, Coinbase, Kucoin, and Bitmex.
Net Flows (USD): -$764,164,002
Total Transfers: 561,260, 241,053 IN / 320,207 OUT
The top five ERC-20 tokens transferred through Binance were: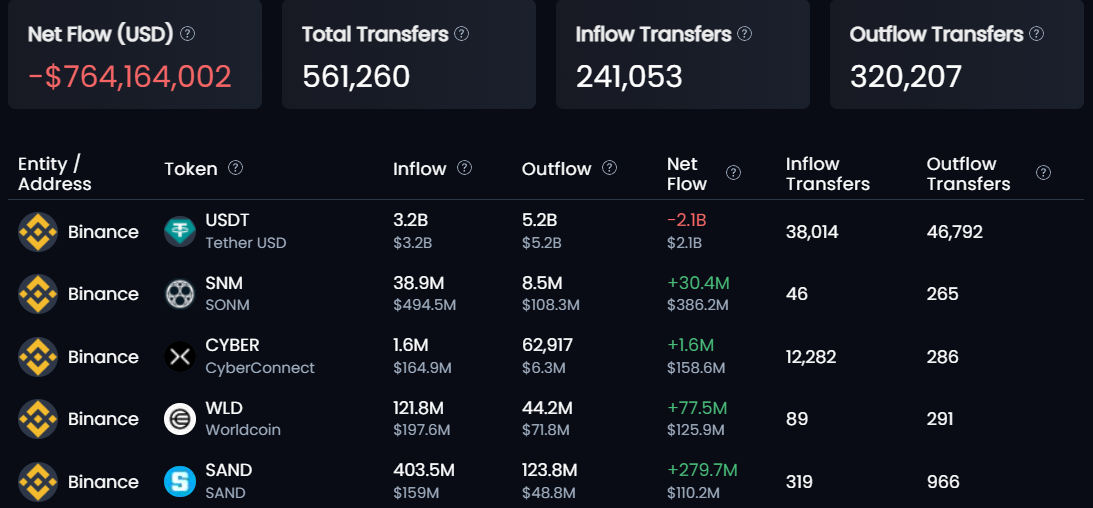 Net Flows (USD): +$59,753,670
Total Transfers: 161,124, 54,314 IN / 106,810 OUT
The top five ERC-20 tokens transferred through Coinbase were: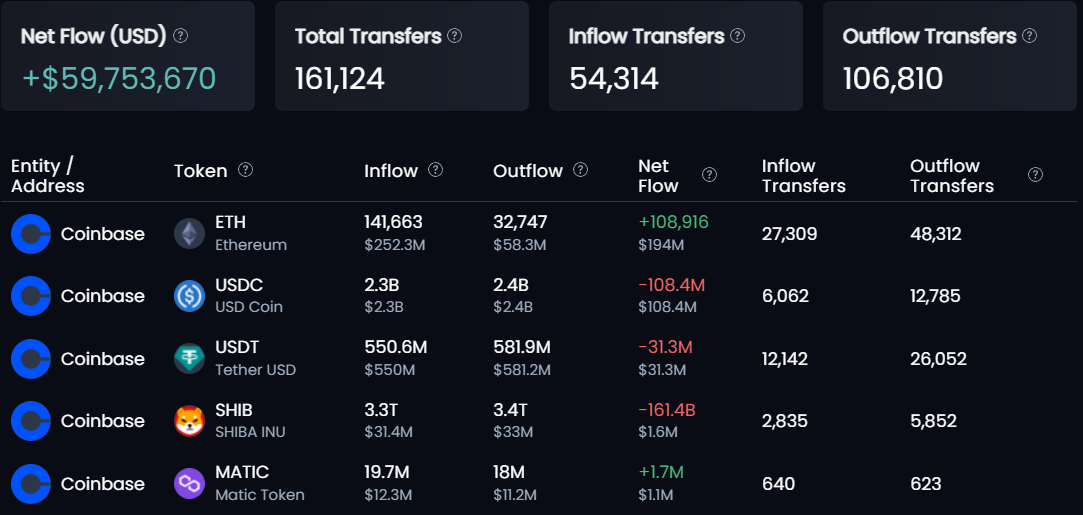 Net Flows (USD): +$10,511,998
Total Transfers: 32,422, 18,880 IN / 13,542 OUT
The top five ERC-20 tokens transferred through Kucoin were: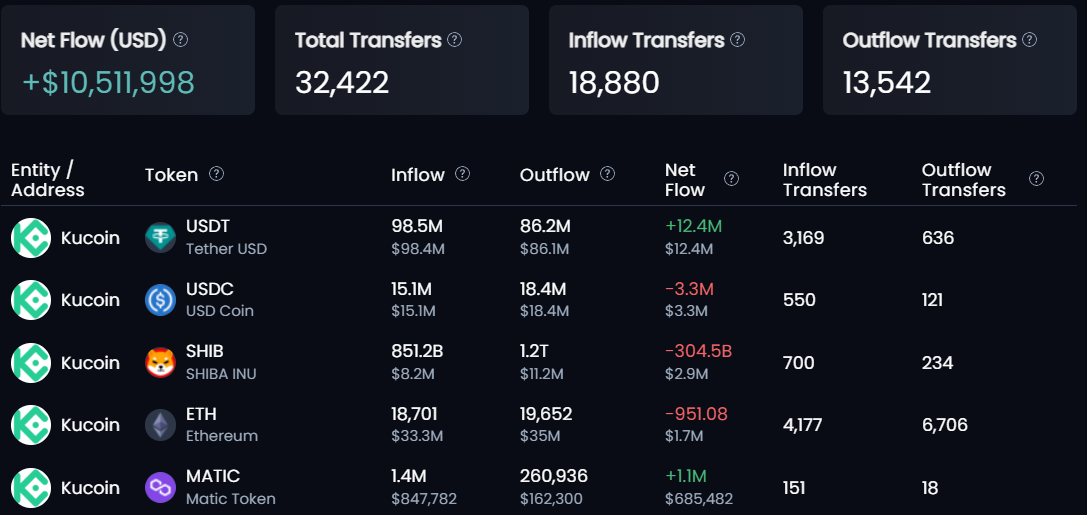 Net Flows (USD): -$168,360
Total Transfers: 247, 105 IN / 142 OUT
The top five ERC-20 tokens transferred through Bitmex were: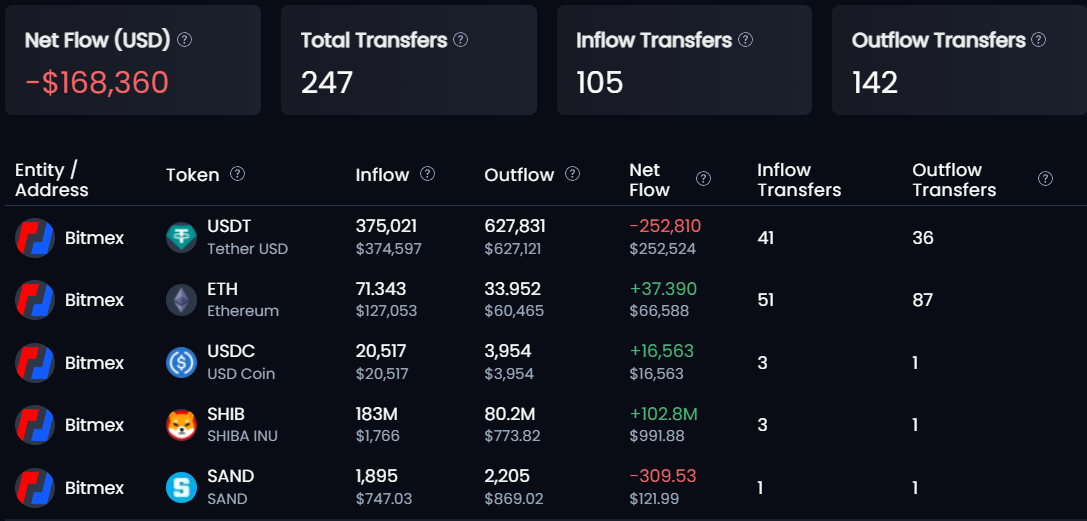 Blockpour is a technology firm specializing in Web3 data and analytics, offering individuals and businesses indispensable data and tools to navigate the dynamic on-chain universe while bridging seamlessly to the off-chain world.
Through our real-time and historical multi-chain data feeds, businesses and traders can fully unlock the power of blockchain data to inform their strategies, optimize operational efficiency, and drive top-line growth.
The above article is for informational purposes only and is not financial advice. Blockpour is a data aggregation and analytics platform only and does not provide financial advice or services of any kind.