This issue of Blockpour On-Chain This Week takes a look at the latest memecoin trends, Fantom's network activity, Worldcoin's iris-scanning initiative, network volatility, and CEX token flows.
On-chain activity was largely dominated by animal racing tokens on Ethereum since last weekend. We all know that people will go where the liquidity is on-chain, but these trends remain an entertaining phenomenon. Fantom network activity has returned to its pre-hack levels, and Worldcoin made a splash. Get all that plus centralized exchange ERC-20 token flows in Blockpour On-Chain This Week!
Off to the Races with Ethereum Animal Coins
Bored and volatility-starved crypto traders entertained themselves over the weekend with a new brand of token: the animal race token. Several such tokens popped up over the weekend to promote actual races with their namesake animals. $HAMS, $ROACH, $CHICKENS, and $ROCKS, a rock race token, led the pack. $HAMS saw a 3,250% price increase to $2.67 last weekend, but fell to $0.24 by the end of the week.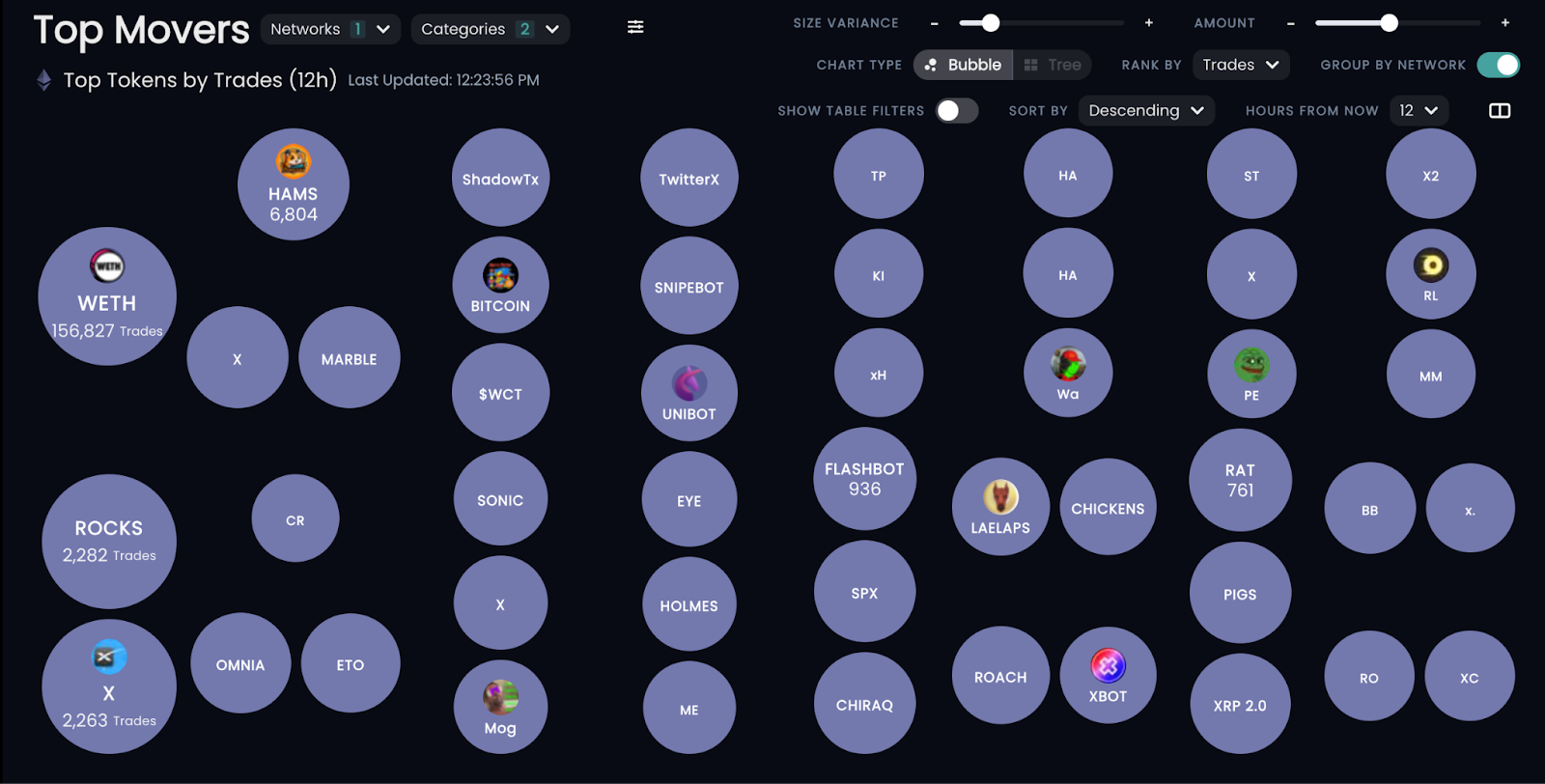 Animal Racing tokens and memecoins on Ethereum.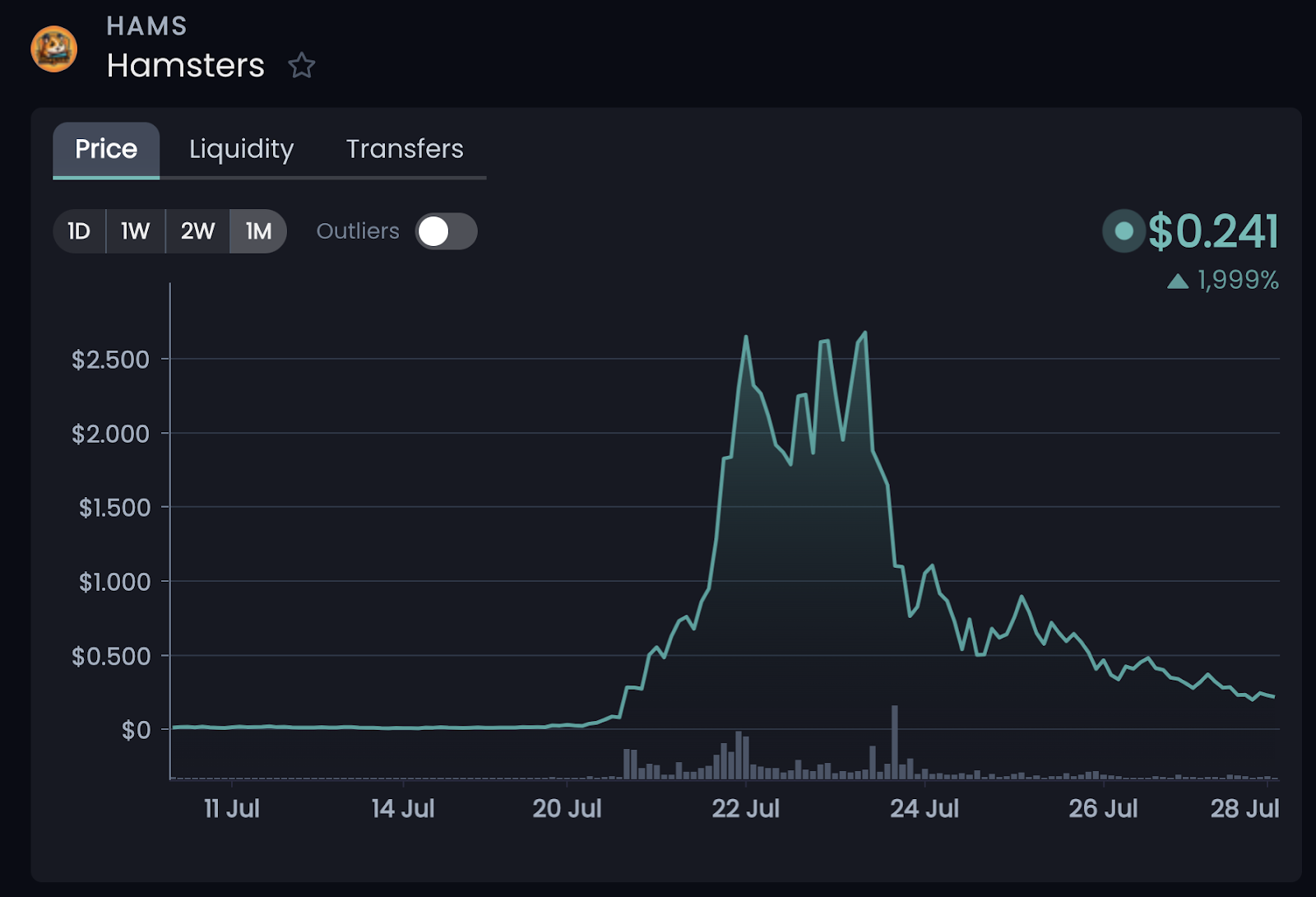 The $HAMS token dashboard on Blockpour.
Fantom Proves that No News Is Good News
Metrics on the beleaguered Fantom network have returned back to the mean despite the calamitous Multichain bridge hack early this month. In the weeks leading up to the incident in which Fantom's main token bridge was exploited for nearly all of its collateral (and subsequently shut down entirely), daily trading volume on the network generally ranged between $3M and $10M. Between 7/6 and 7/17, volume ranged much higher, peaking at $82.1M as users attempted to flee the network. Volumes regressed back to the pre-hack mean at the end of this month.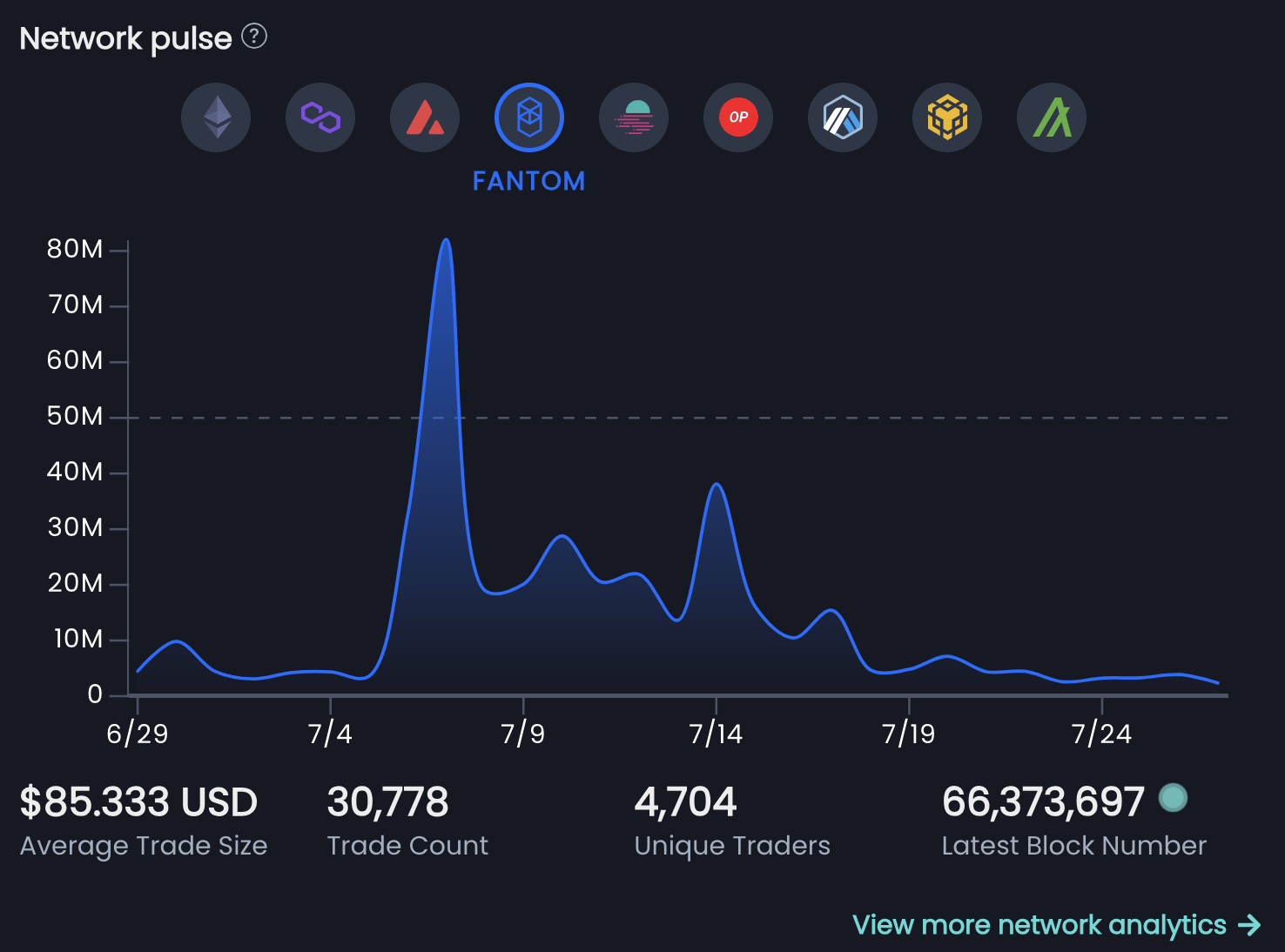 Fantom network trade volume.
A Story of Iris-Scanning Orbs​
The Worldcoin digital ID (DID) platform officially launched on Monday by issuing $WLD tokens to anyone around the world who allowed their iris to be scanned by the company's mechanical iris-scanning orb. The project will use the tokens as a payment method for its digital passports as part of its proof-of-personhood efforts. $WLD launched at about $3, but prices have stabilized to about $2. Traders seem to like the coin since buy volume comprises 53% of trades with a $230M market cap.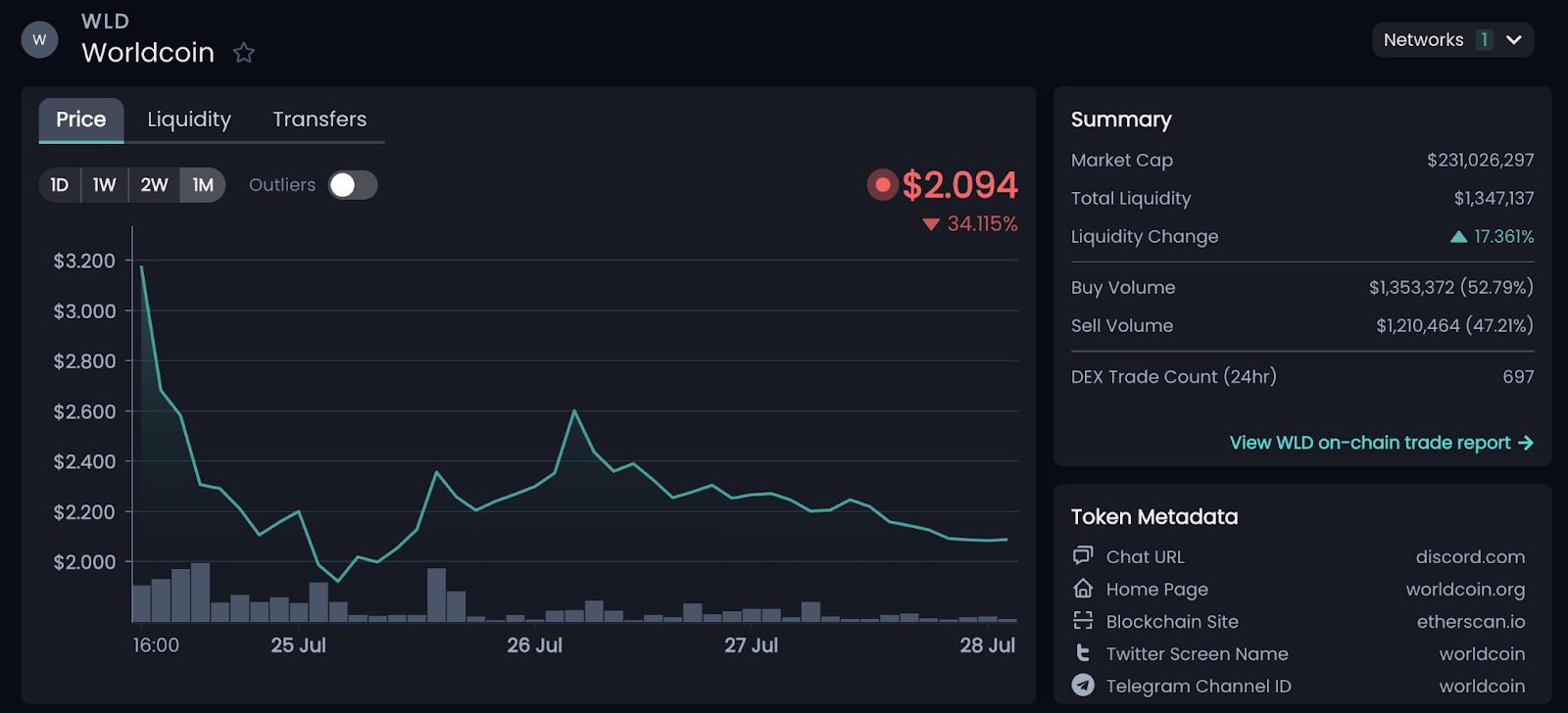 The $WLD token dashboard.
Some Volatility in Market Metrics
Our Network Pulse tool shows that this week has seen some elevated volatility on the 9 networks Blockpour tracks, on total trade volume and average trade size in USD. Trade volume wobbled between just above and just below $1B per day, while average trade size oscillated from about $5K to $6K per day. Conversely, the number of unique traders and unique liquidity pools with trades was relatively flat at about 300K per day and 26K per day respectively.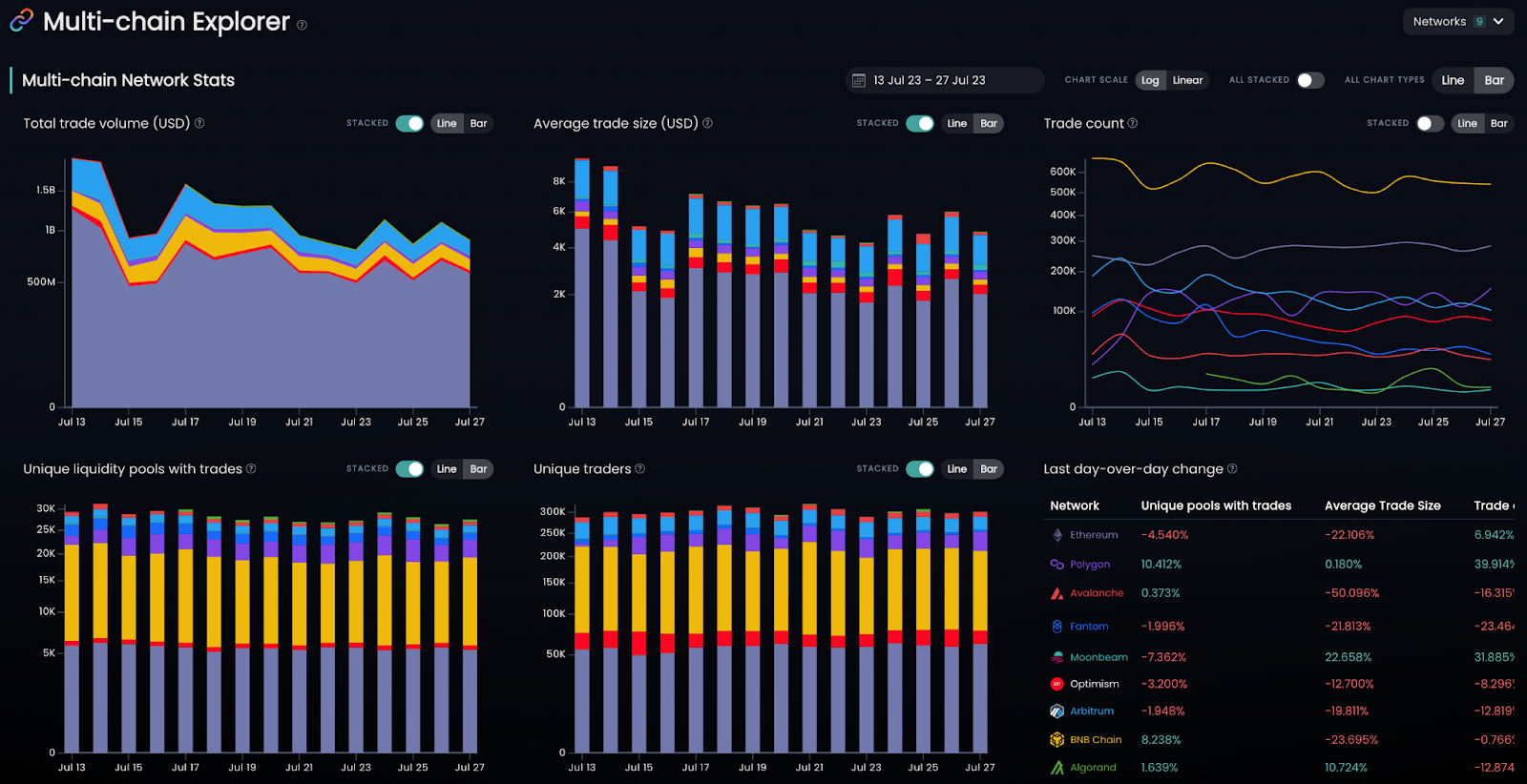 The Multichain explorer on Network Pulse showing metrical volatility.
Let's Talk About CEX: The top ERC-20 tokens transferred at centralized exchanges
This section reviews the ERC-20 token transfer flow trends from the largest centralized exchanges, such as Binance, Coinbase, Gate.io, and Kucoin.
Net Flows (USD): +$2,007,762,050
Total Transfers: 504,249, 202,935 IN / 301,314 OUT
The top five ERC-20 tokens transferred through Binance were:

Net Flows (USD): +$66,873,274
Total Transfers: 187,116, 70,460 IN / 116,656 OUT
The top five ERC-20 tokens transferred through Coinbase were:

Net Flows (USD): +$87,404,949
Total Transfers: 26,364, 5,868 IN / 20,496 OUT
The top five ERC-20 tokens transferred through Gate.io were:

Net Flows (USD): +$27,930,029
Total Transfers: 41,579, 16,142 IN / 25,437 OUT
The top five ERC-20 tokens transferred through Kucoin were:

Blockpour is a technology firm specializing in Web3 data and analytics, offering individuals and businesses indispensable data and tools to navigate the dynamic on-chain universe while bridging seamlessly to the off-chain world.
Through our real-time and historical multi-chain data feeds, businesses and traders can fully unlock the power of blockchain data to inform their strategies, optimize operational efficiency, and drive top-line growth.
The above article is for informational purposes only and is not financial advice. Blockpour is a data aggregation and analytics platform only and does not provide financial advice or services of any kind.