This time in Blockpour On-Chain This Week, we take aim at the impact of stablecoins across the crypto market.
This week featured unique activity among many of the top stablecoins in the crypto market. $USDC market cap has been diving while Tether's has risen with $USDT. Meanwhile, $DAI had an unusual week of multi-billion dollar movement volume on Ethereum. Get that and CEX token flow data in this weeks update!
On Monday, Tether and Bitfinex CTO Paolo Ardoini announced that $325M in $USDT stablecoins had been redeemed that day with some sense of accomplishment. However, a closer look at Bitfinex and Tether wallets on Blockpour shows that Bitfinex redeemed the $245M in $USDT on Ethereum. The remainder - about $80M on Tron - also appears to have been redeemed by Bitfinex. Ardoini may have been trying to illustrate how easy and accessible Tether redemptions are.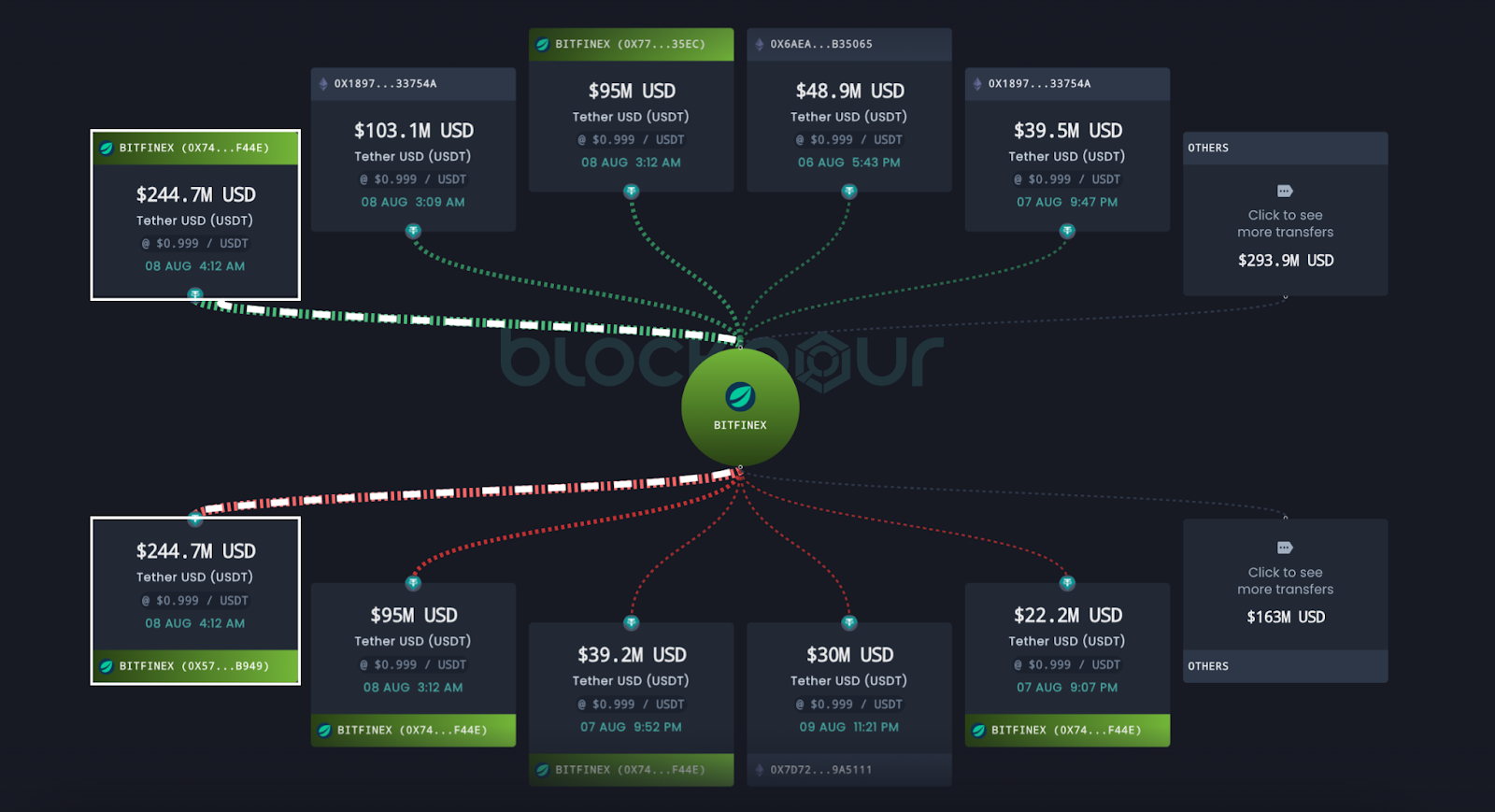 The largest $USDT redemptions came through Bitfinex this week.
MakerDAO's stablecoin, $DAI, had a very big week in terms of on-chain movement volume on Ethereum. In single hours on each day from the 7th through the 9th, $DAI hit over $1B USD in movement volume. The peak was on the 9th when it hit $3B USD in movement volume on $DAI strablecoins in a single hour presumably due to the elevated rate of return on $DAI locked on Maker's platform set at 8%, which is up from the rough average of about 3%, but which may level off at 5% soon.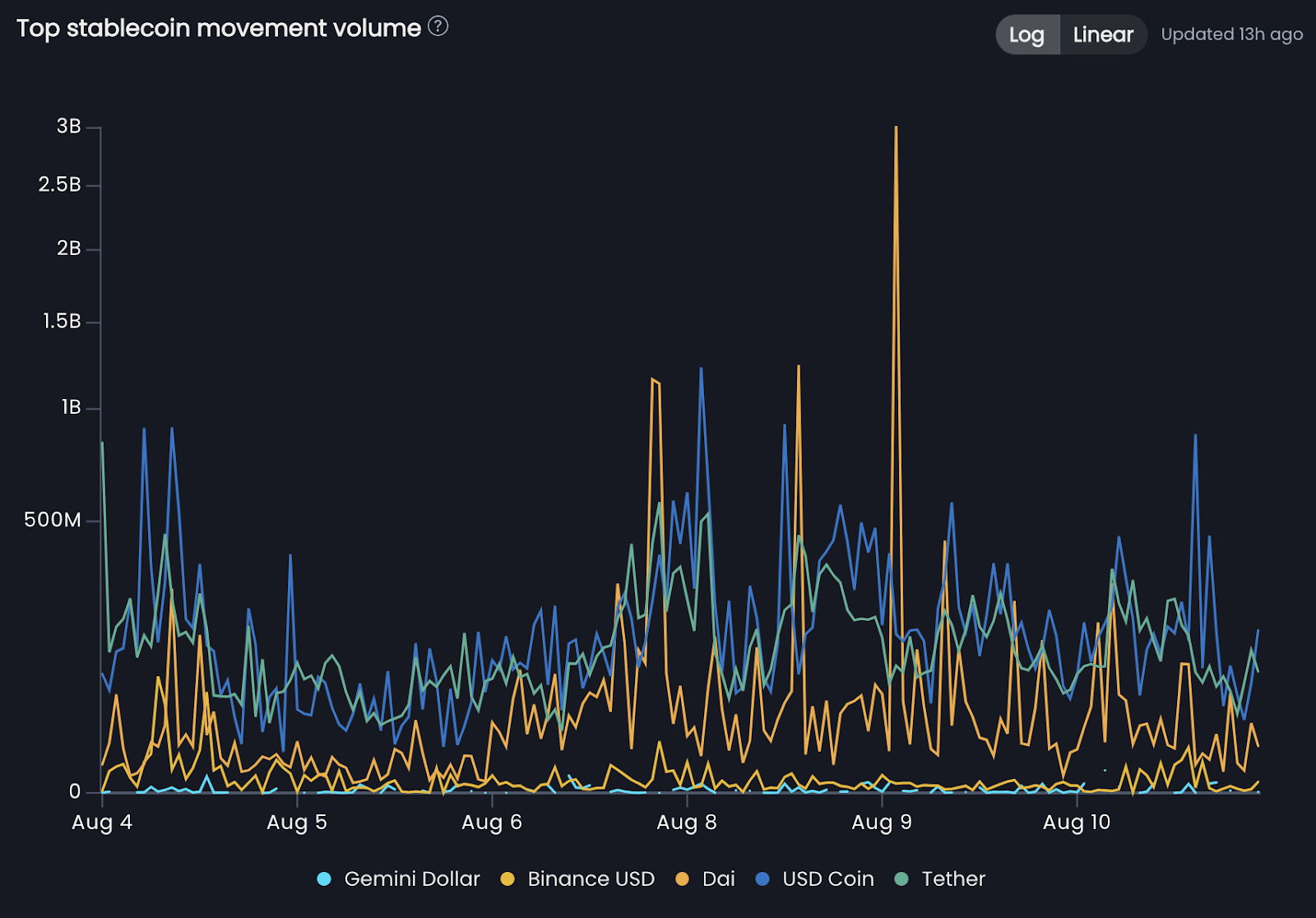 $DAI movement flows on Ethereum topped $1B USD in several days this week.
Polygon Trade Counts Surge
On-chain trade counts on the Polygon network jumped this week to a 30-day high of 155,937 after falling all last week. This mark pushed the Ethereum sidechain into third place for trade counts between all networks tracked by Blockpour, behind only Ethereum and BNB Chain. Other metrics on the network are also up this week, such as trade volume, which was up 4.5x from the 6th to the 7th, and average trade size.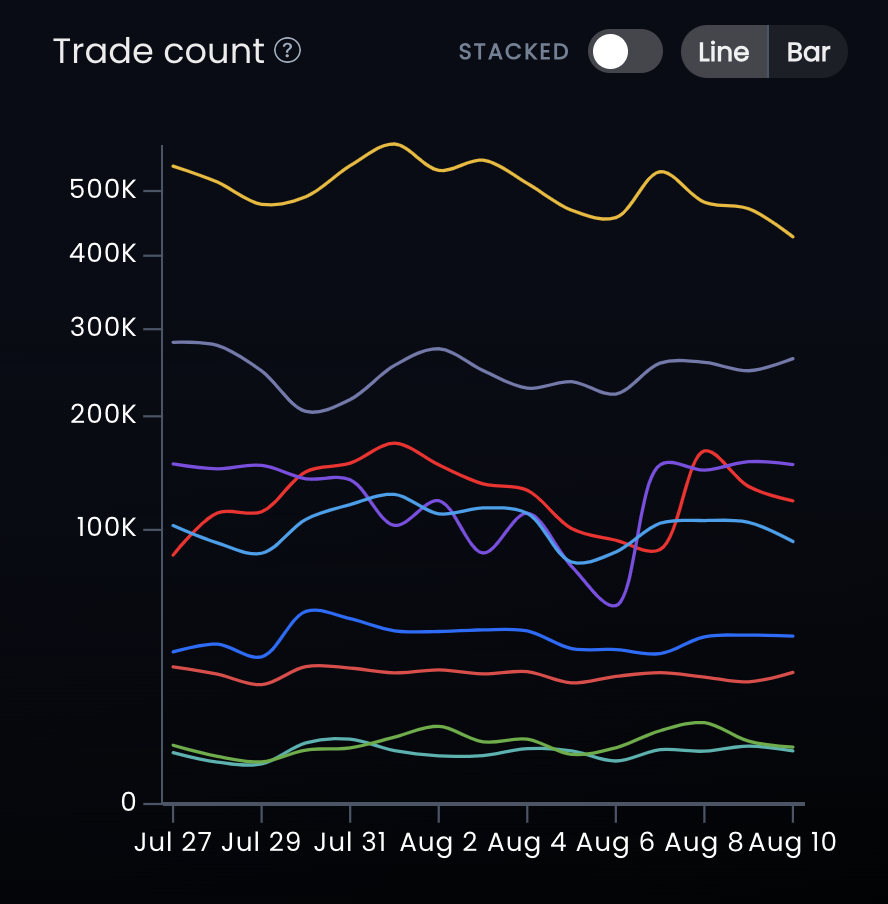 Polygon takes the 3rd spot in network trade counts.
$USDC Circles (the Drain)
Coinbase and Circle routinely handled the most stablecoin flows throughout the week. Towards the end of the week, $USDC inflows to Coinbase and subsequent flows to burn tokens at Circle came up regularly, especially toward the end of the week. The largest flows through Coinbase to Circle were a pair of outflows worth $79.6M. $USDC on-chain market cap across has been declining through the week to $29B as of the time of writing, compared to the $83B market cap from $USDT.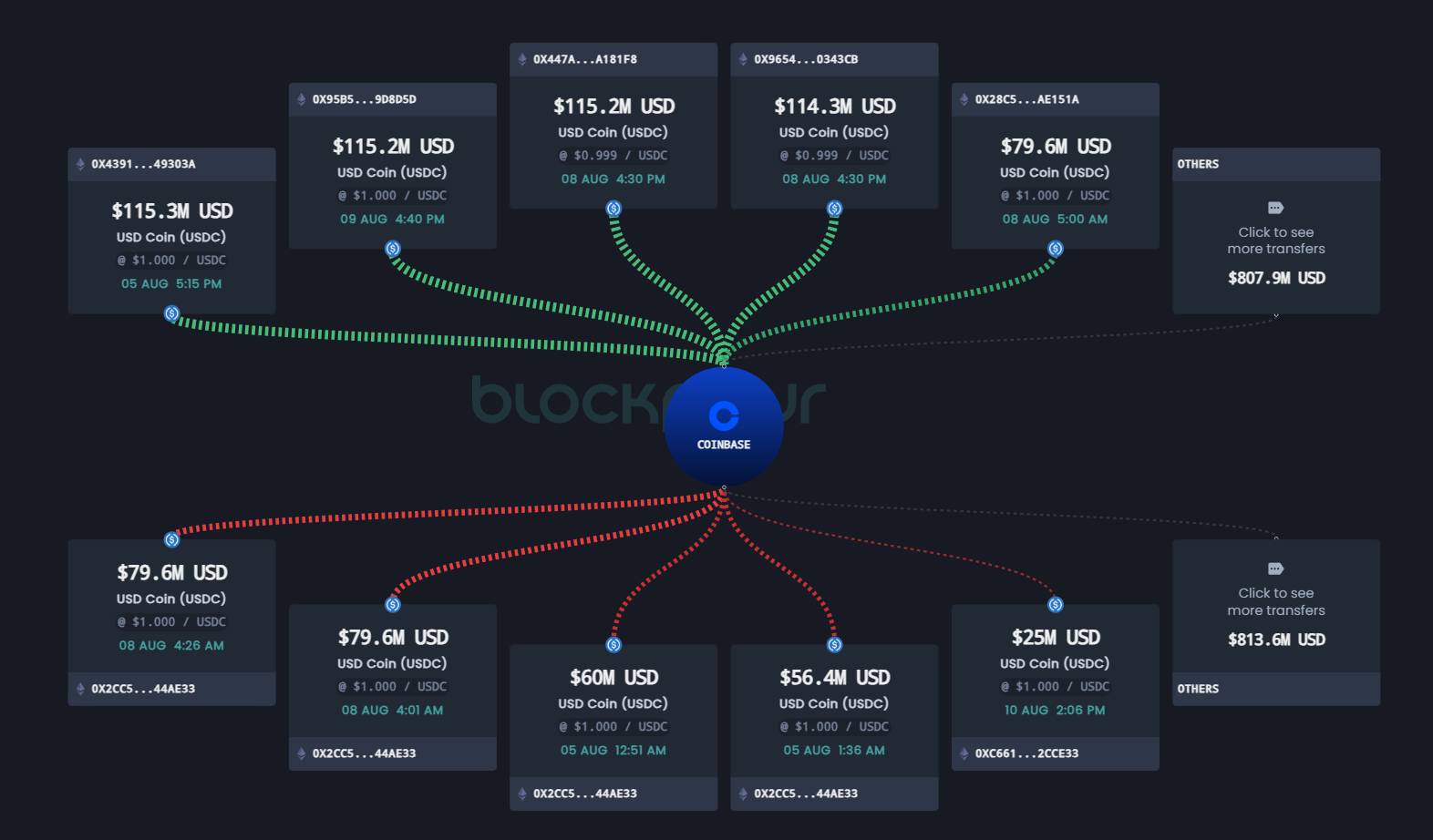 $USDC burn rate increases through Coinbase to Circle.
Let's Talk About CEX: The top ERC-20 tokens transferred at centralized exchanges
This section reviews the ERC-20 token transfer flow trends from the largest centralized exchanges, such as Binance, Coinbase, OKX, and Gemini.
Net Flows (USD): +$2,031,328,059
Total Transfers: 618,093, 262,677 IN / 355,416 OUT
The top five ERC-20 tokens transferred through Binance were: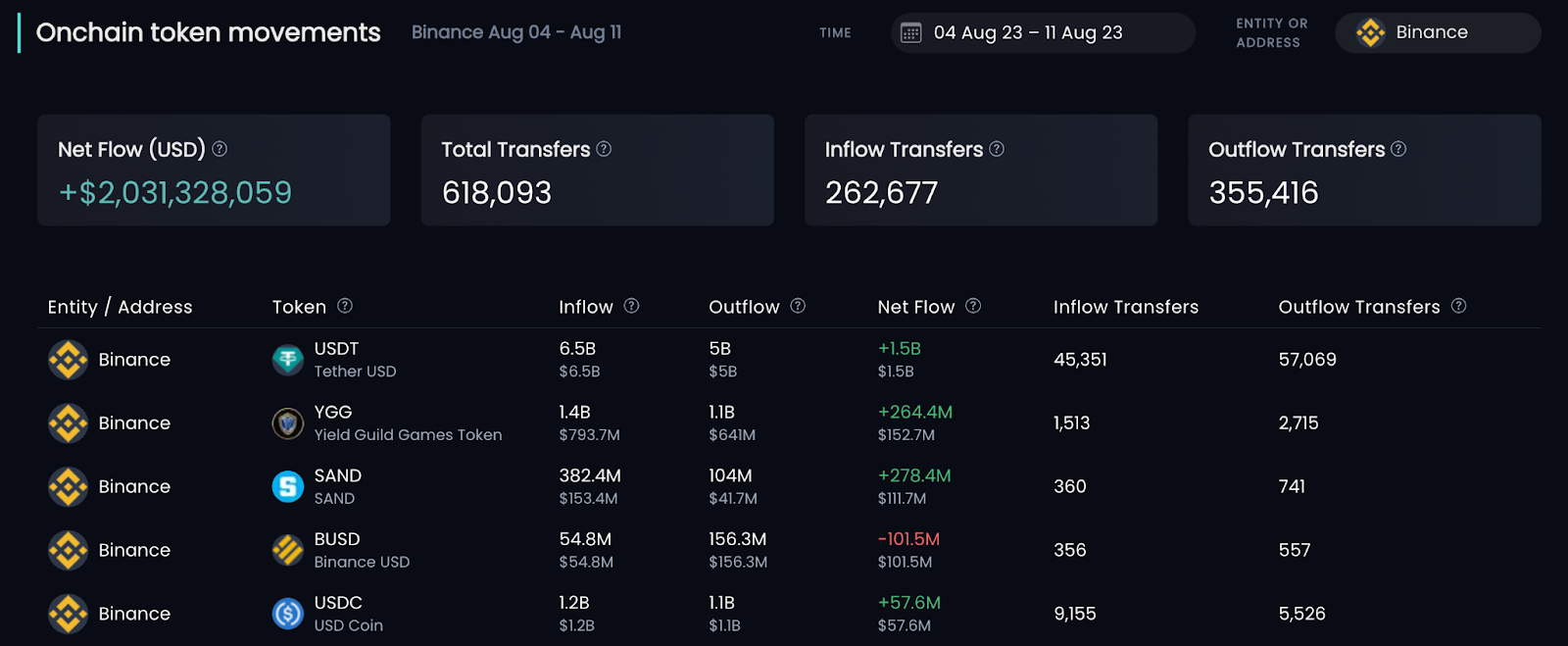 Net Flows (USD): +$310,065,845
Total Transfers: 188,301, 63,231 IN / 125,070 OUT
The top five ERC-20 tokens transferred through Coinbase were: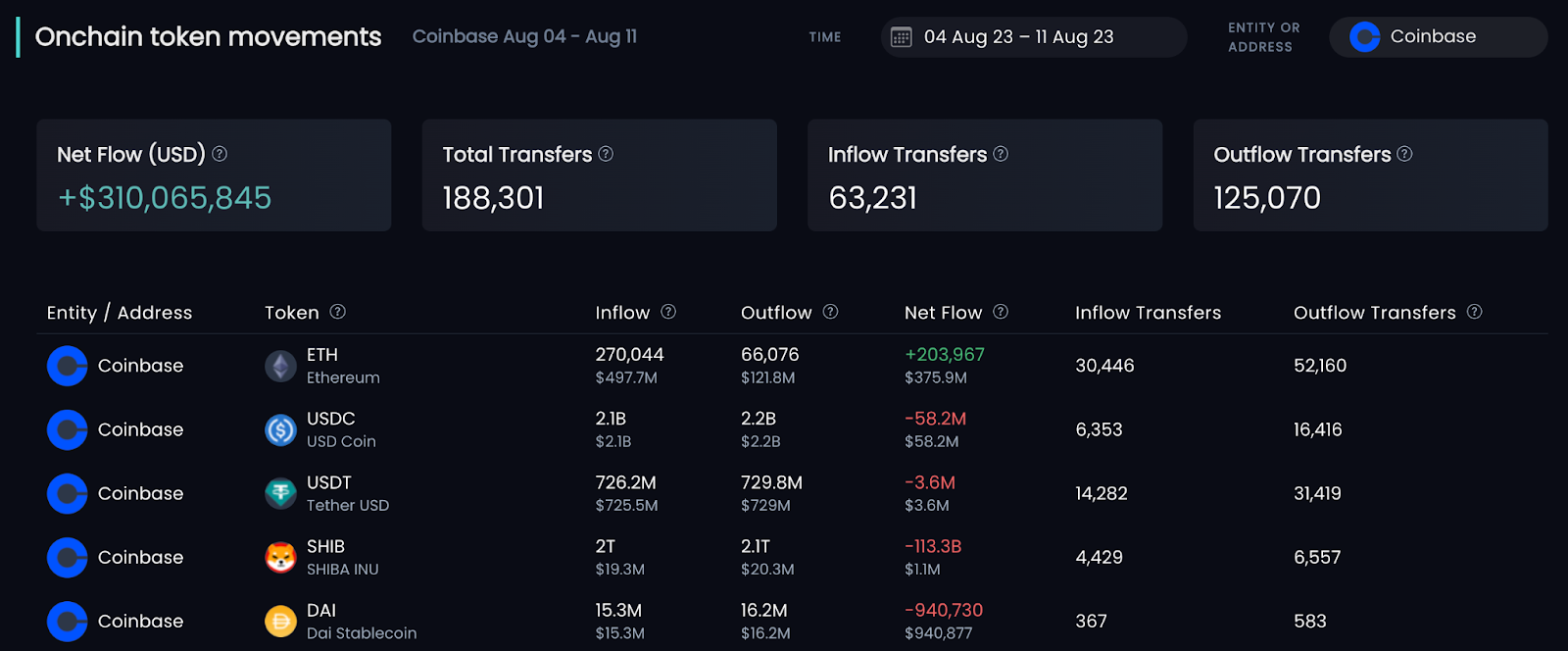 Net Flows (USD): -$76,499,837
Total Transfers: 68,712, 16,754 IN / 51,958 OUT
The top five ERC-20 tokens transferred through OKX were: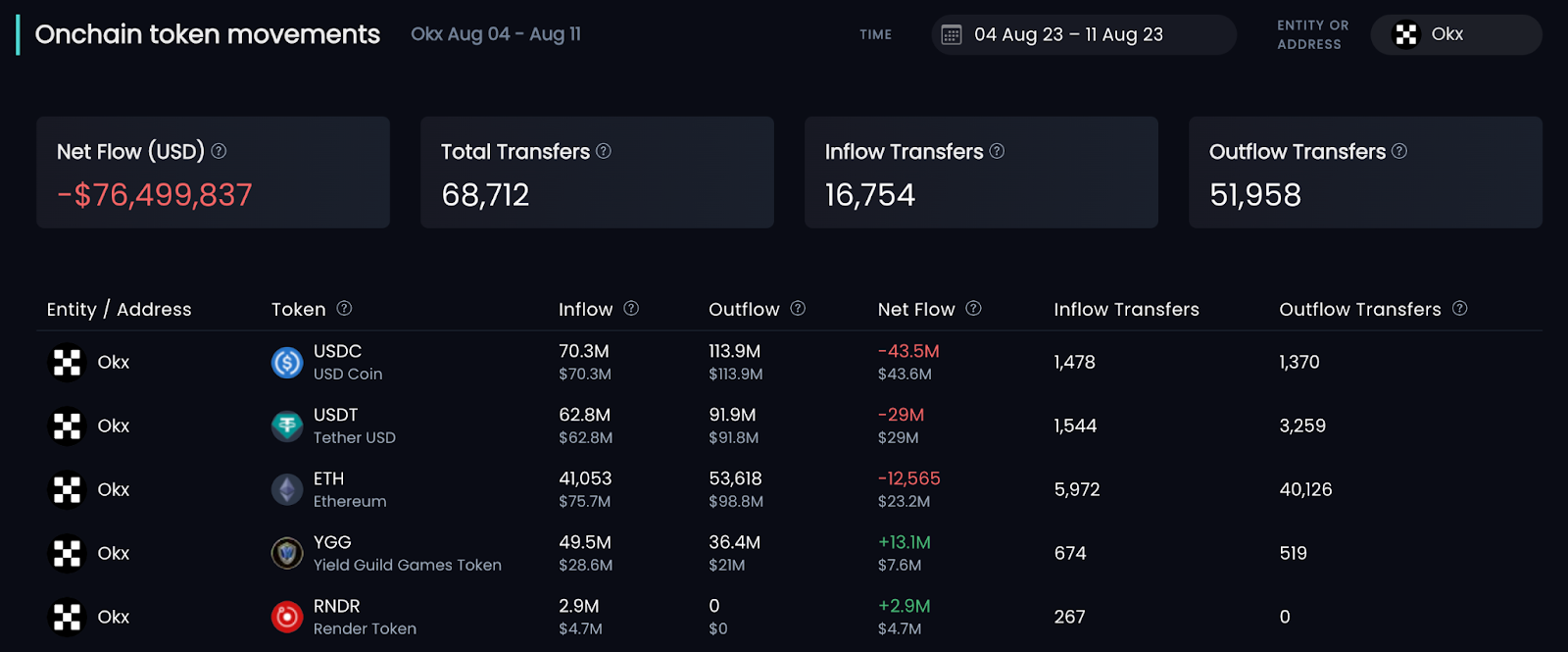 Net Flows (USD): -$19,856,143
Total Transfers: 7,624, 1,871 IN / 5,753 OUT
The top five ERC-20 tokens transferred through Gemini were: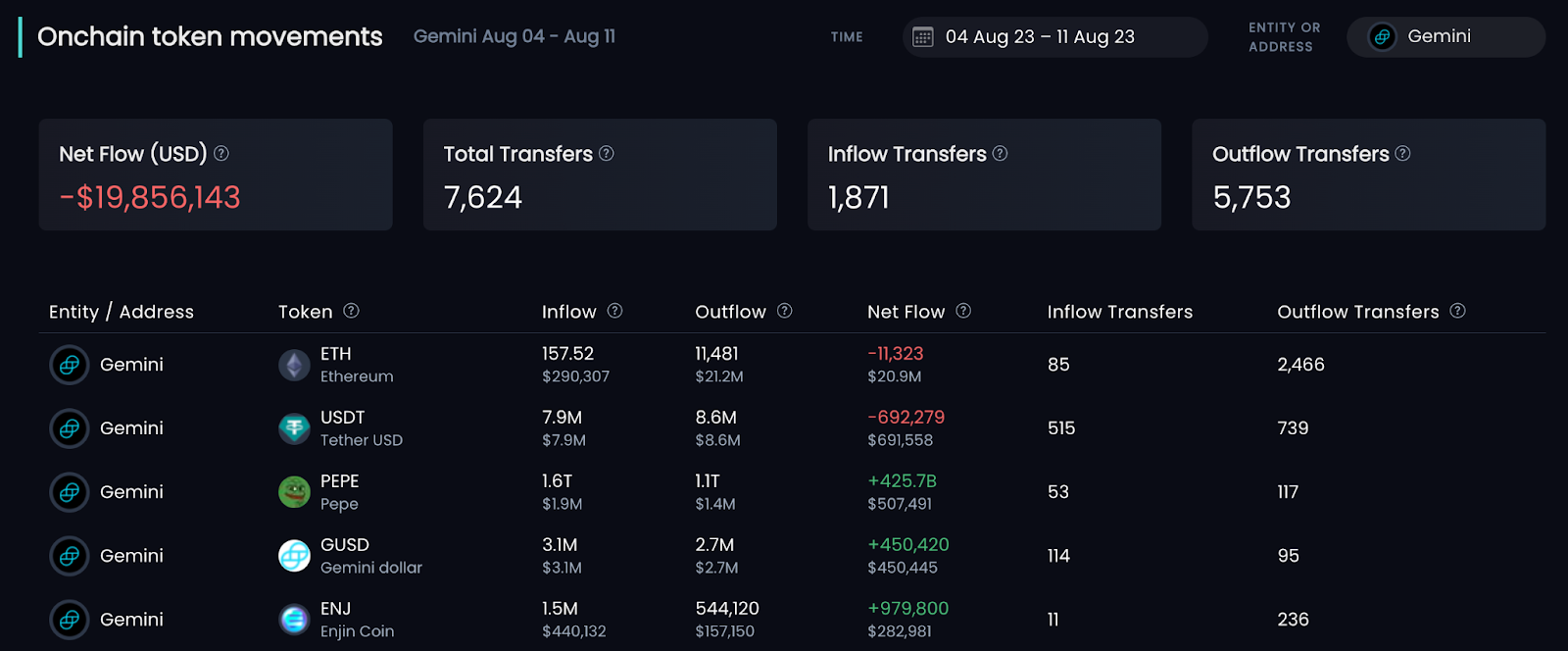 Blockpour is a technology firm specializing in Web3 data and analytics, offering individuals and businesses indispensable data and tools to navigate the dynamic on-chain universe while bridging seamlessly to the off-chain world.
Through our real-time and historical multi-chain data feeds, businesses and traders can fully unlock the power of blockchain data to inform their strategies, optimize operational efficiency, and drive top-line growth.
The above article is for informational purposes only and is not financial advice. Blockpour is a data aggregation and analytics platform only and does not provide financial advice or services of any kind.