Find DeFi trends with the new Top Movers tool
Get ready to track trends in DeFi and across crypto with the new Top Movers tool on Blockpour 2.0 with this issue of Blockpour 2.0 Basics! Long-term users will immediately notice the major revamp of this classic feature.
The changes amount to more than just a superficial makeover. With this upgraded tool, users can still track crypto token trends, but now the filters have taken a massive leap forward to match the jaw-dropping Blockpour 2.0 upgrades.
Users can easily locate this game-changer on the left-side menu. Look for the button below the Home button in the left-side menu that says "Top Movers" - just click it and prepare to power up your research capabilities!
Visualization options: bubbles or trees?
The first obvious change to the Top Movers tool is the default bubble view. The default view arranges results by network, and their size denotes their relative ranking by number of trades made using those tokens on-chain.
The most prominent image is the chart in the middle, which may be a bubble chart or tree chart depending on user preferences. Extract major alpha at a glance - or stare at the chart for hours for fun. Users can find truly granular token data in intuitive visual form.
The bubbles and squares are color coded by network with the colors that are most commonly associated with each respective network. Lavender is for Ethereum , purple is for Polygon, light red is for Avalanche, dark red is for Optimism, yellow is for BNB Chain, green is for Algorand, light blue is for Arbitrum, turquoise is for Moonbeam, and blue is for Fantom. Color-coding makes it easier for traders to track trends in DeFi across the multi-chain ecosystem.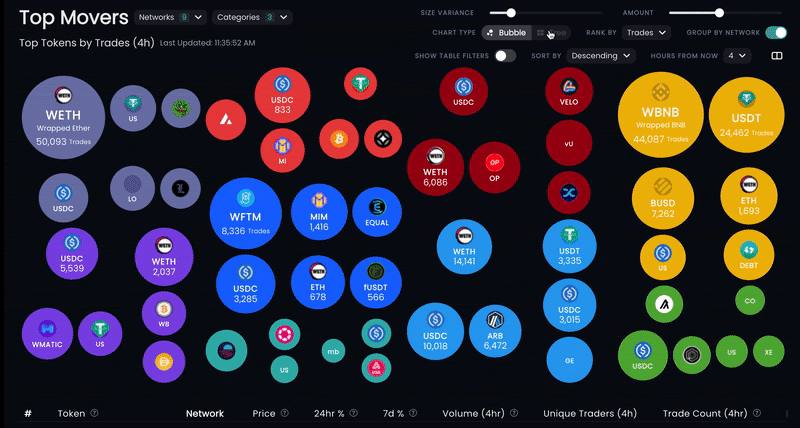 Switching between bubbles and squares with Top Movers.
Filter Top Movers to get maximum alpha
From the top left, users can choose to filter results by network, which includes all the networks tracked by Blockpour, and by category. The three categories are: Stablecoins, Native Tokens, and Others. The Others category can include memecoins like $PEPE and obscure low-cap tokens.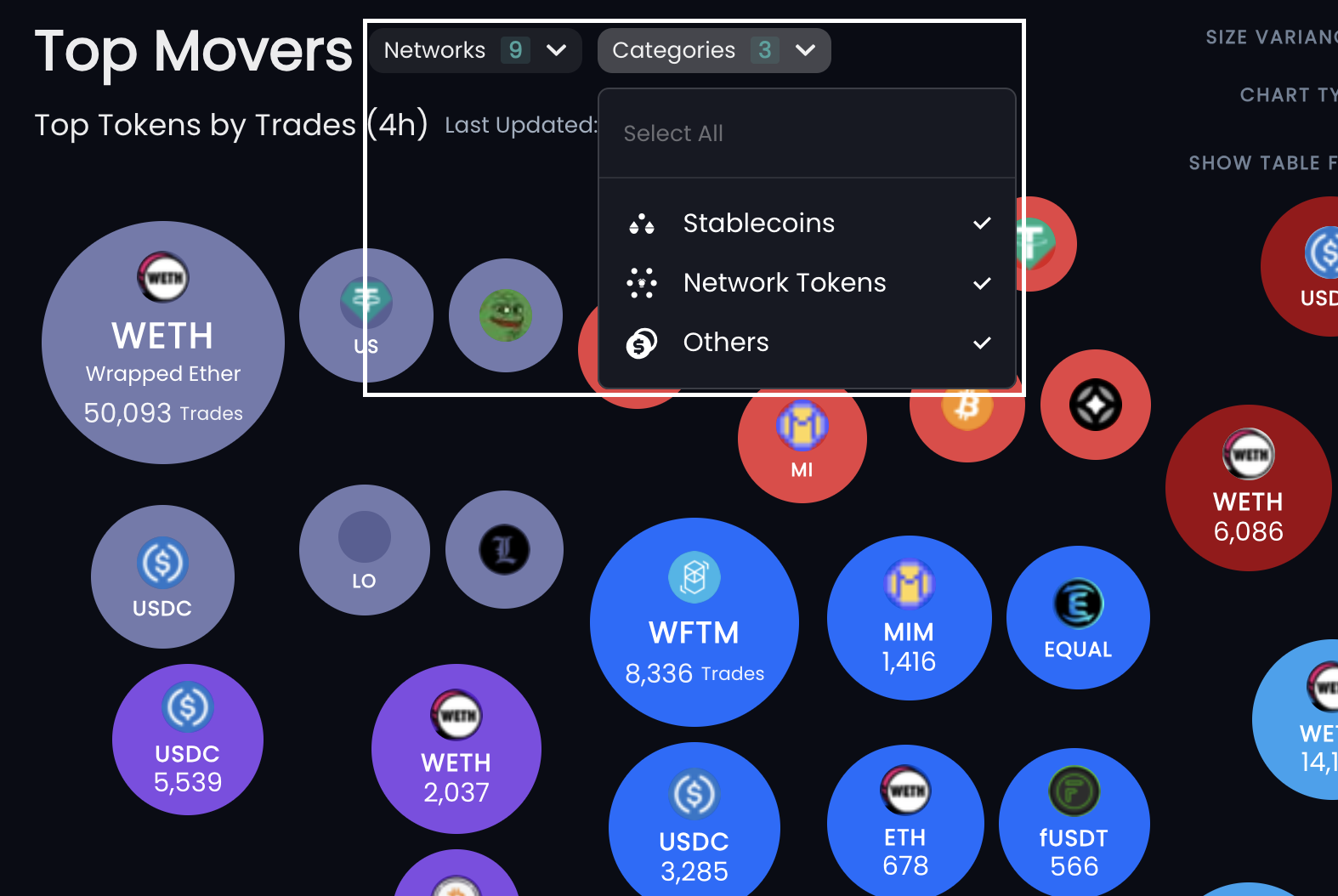 Choose the category of tokens you need to track.
Depending on the size of the browser window, several other widget settings may be displayed at the top center and top right, or they could be nested in a 3-lined button that must be clicked to show the settings.
Within those settings. users can change the size variance of the bubbles or squares, the amount of bubbles or squares to display, which type of chart to show, whether to rank by average price, pairs traded on, unique traders, trades, token volume, USD volume, 24-hour price change, or 7-price change, whether to group by network, whether to show table filters, what order to sort results in, and the timeframe.


With so many settings options to choose from, users will find it easy to rely on the Top Movers tool for highly specified uses in their research efforts.
Tracking the market by the numbers with the Token Table
Below the bubble chart is the Token Table, which displays data on 30 different tokens per page, up to 444 tokens.
From left to right, the token table displays a token's ranking, the token ticker and name, the network it is on, its current price, 24-hour price change, 7-day price change, then token volume, unique traders, and trade count, and pairs traded on within a specified timeframe, ending with the last 7 day price change chart then the option to add the token as a favorite. New pages on the token table can be sorted through at the bottom left of the webpage.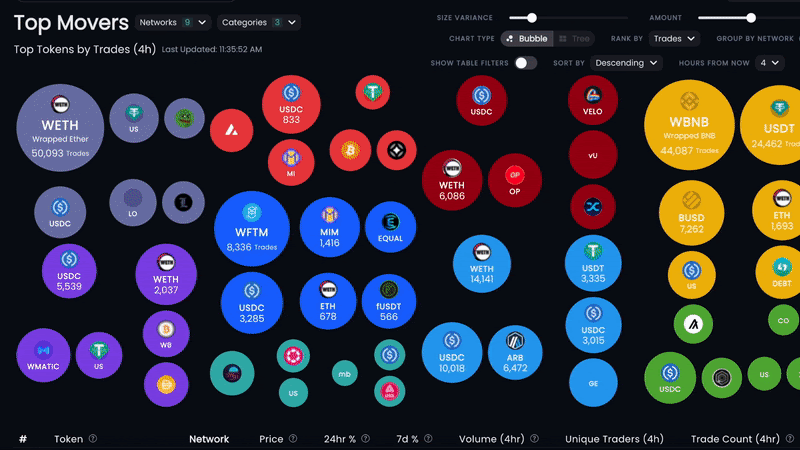 Find the Top Movers data filters at the top right of the screen.
How can Top Movers supercharge your research?
The Top Movers tool, with its high level of customization, empowers users to track trends in DeFi and the broader crypto markets with a visually stunning UI in dark mode with beautiful, vivid colors.
Think about this tool like a magnifying glass. You can overview the vast on-chain crypto market, and zoom in by filtering for just stablecoins, which are of paramount importance to DeFi traders and liquidity providers. Powerful new features allow you to focus on specific networks of interest and view which tokens are newly moving and may require attention.
Users can also view only the native tokens from networks and on-chain protocols. This ability could come in very handy when trying to see the movement of so-called utility tokens rather than stablecoins, which will certainly have the lion's share of volume, and upstart popular memecoins.
Additionally, Top Movers can help easily identify where cross-chain arbitrage opportunities lie for the same token on different blockchain networks. For example, there may be a dramatic price variance for $WBTC between Arbitrum and BNB Chain, which may be spotted quickly if a user is tracking native tokens on all networks on the Top Movers tool.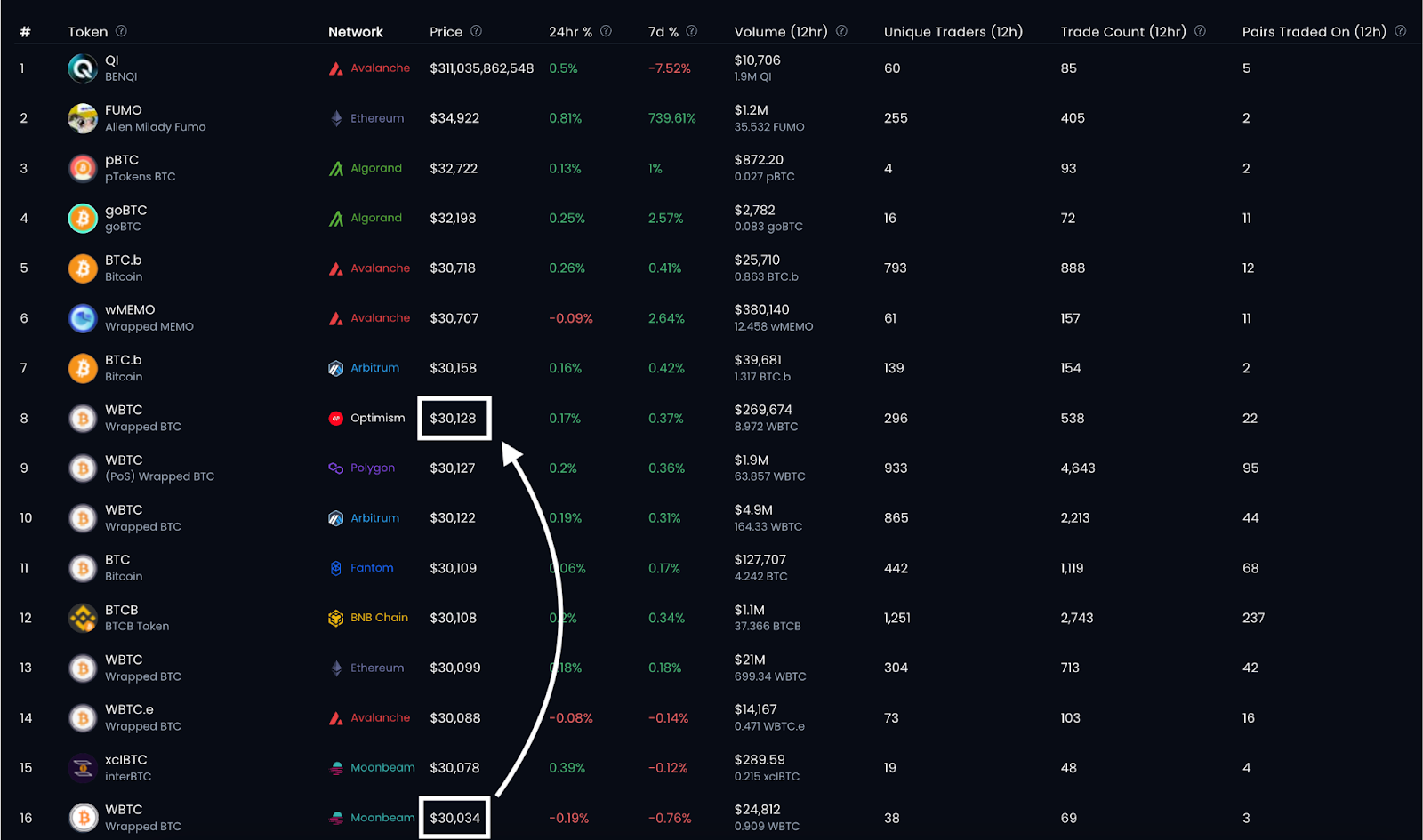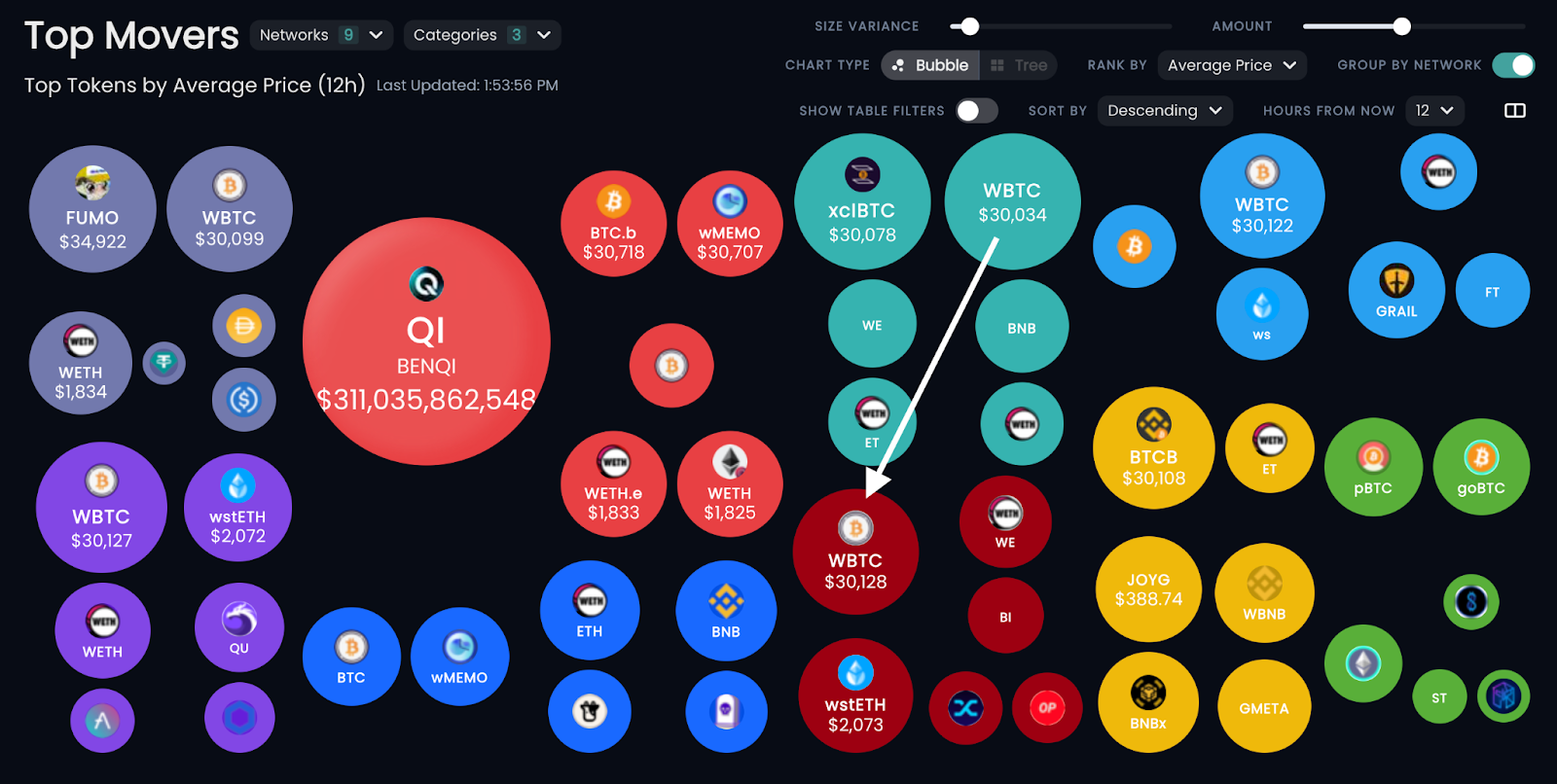 Locate lucrative multi-chain arbitrage opportunities with Top Movers!
Fully unlock these powerful filters and features that allow you to pinpoint trending tokens with precision - only with Blockpour's Alpha Pro plan.
When used properly, the Top Movers tool can be an invaluable asset to stakeholders who want or need to track trends in DeFi and the larger multi-chain crypto ecosystem. Its stunning aesthetic and unique, customizable functionality, provides users with almost unlimited opportunities to pinpoint trends, surging tokens, and trading opportunities with precision.
Blockpour is a technology firm specializing in Web3 data and analytics, offering individuals and businesses indispensable data and tools to navigate the dynamic on-chain universe while bridging seamlessly to the off-chain world.
Through our real-time and historical multi-chain data feeds, businesses and traders can fully unlock the power of blockchain data to inform their strategies, optimize operational efficiency, and drive top-line growth.
The above article is for informational purposes only and is not financial advice. Blockpour is a data aggregation and analytics platform only and does not provide financial advice or services of any kind.