This issue of Blockpour's On-Chain to Inbox newsletter covers trending topics in the memecoin world and tracks the movements of one of the most well-known builders in DeFi who spooked the whole industry this week. The newsletter is also being revamped with new featured interview write-ups. The first one is with the co-founder of Cryptex Finance, Joe Sticco.
Catch up on all the latest trends and discover your alpha with Blockpour's On-Chain to Inbox Newsletter!
What's Happening In Crypto
Coinbase's Base network made a splash among traders, especially with $BALD, a memecoin that made some people rich. That is, until the developer pulled the liquidity, sending the token price tumbling in a matter of seconds. Curiously, the legally entrenched Sam Bankman-Fried is suspected by some of being the individual behind the token.
Our discount for Alpha Pro subscriptions is still in effect. Alpha Pro subscribers have a clear advantage in keeping up with the topics in this newsletter! Sign up now at blockpour.com for many of the largest lending platforms.
Bent Over Backwards for Curve Finance
This week was punctuated by a crisis that was years in the making when the founder of Curve Finance, Michael Egorov, nearly had several on-chain loans liquidated worth a collective $100 million USD between Aave, Fraxlend, and Abracadabra.
However, the liquidation crisis was preceded by a hack on the flagship DeFi liquidity platform Curve Finance that saw about $62M USD in crypto taken from liquidity pools seeded by DeFi-based NFT liquidity platform JPEGd, Alchemix, and CurveDAO.
Blockpour covered one of the legs of the exploit in which 7,713 $WETH and 7.2M $CRV were stolen. Interestingly, the addresses have not attempted to move the stolen tokens through Tornado Cash.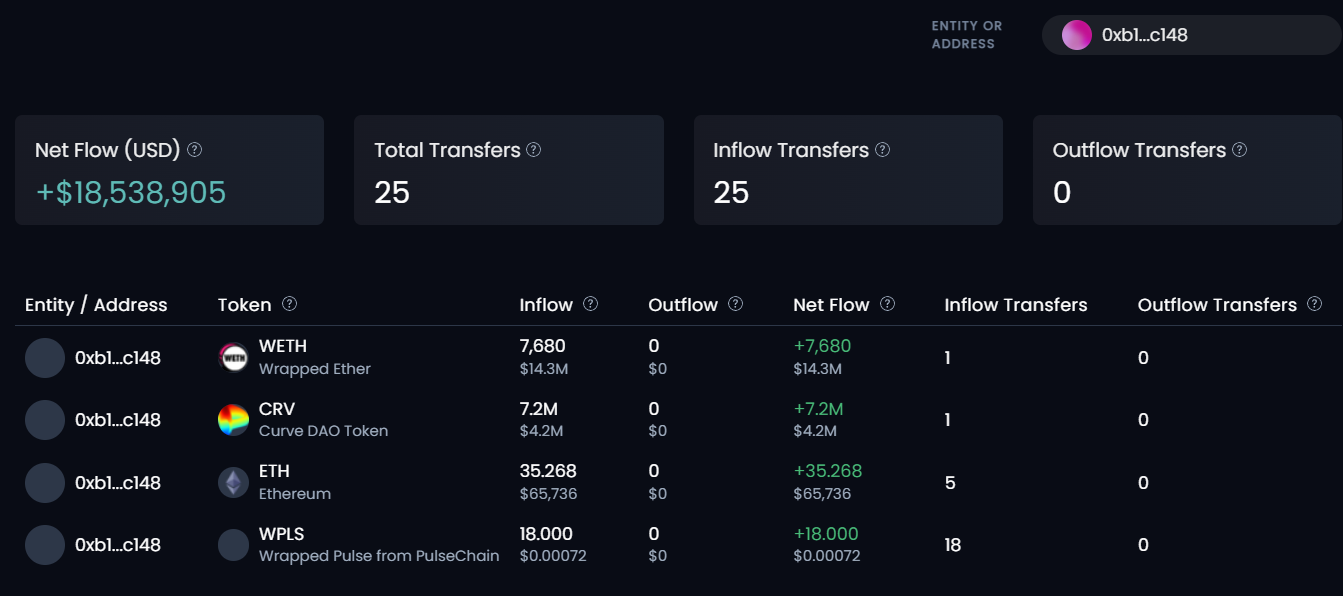 While liquidations on DeFi lending platforms occur daily, Egorov's loans are different. If he gets liquidated, there is simply not enough liquidity across platforms to sell all 300M+ $CRV tokens he has put up as collateral. He holds 34% of the $CRV token supply.
Furthermore, such an event would cause the floor price of $CRV to drop out unless a hero or group of hero opportunists swooped in to max bid and scoop the bottom. Note that his loans are still very much at risk of liquidation despite paying down a portion of his loans during the week.
As the price of $CRV dipped to nearly $0.50, dangerously close to the ~$0.38 price point where Egorov would be liquidated, he began moving millions of dollars worth of crypto to pay down portions of his loans. He focused on Fraxlend by sending 4M $FRAX there. He then moved about $19M USD in $FRAX and $CRV to Aave.

Michael Egorov's wallet transfers to pay down loans.
He also moved $CRV tokens to sell in OTC trades, which gave him the stablecoins he needed to pay down more of his loans. By this point, a portion of his loans were covered by His Excellency, Justin Sun himself.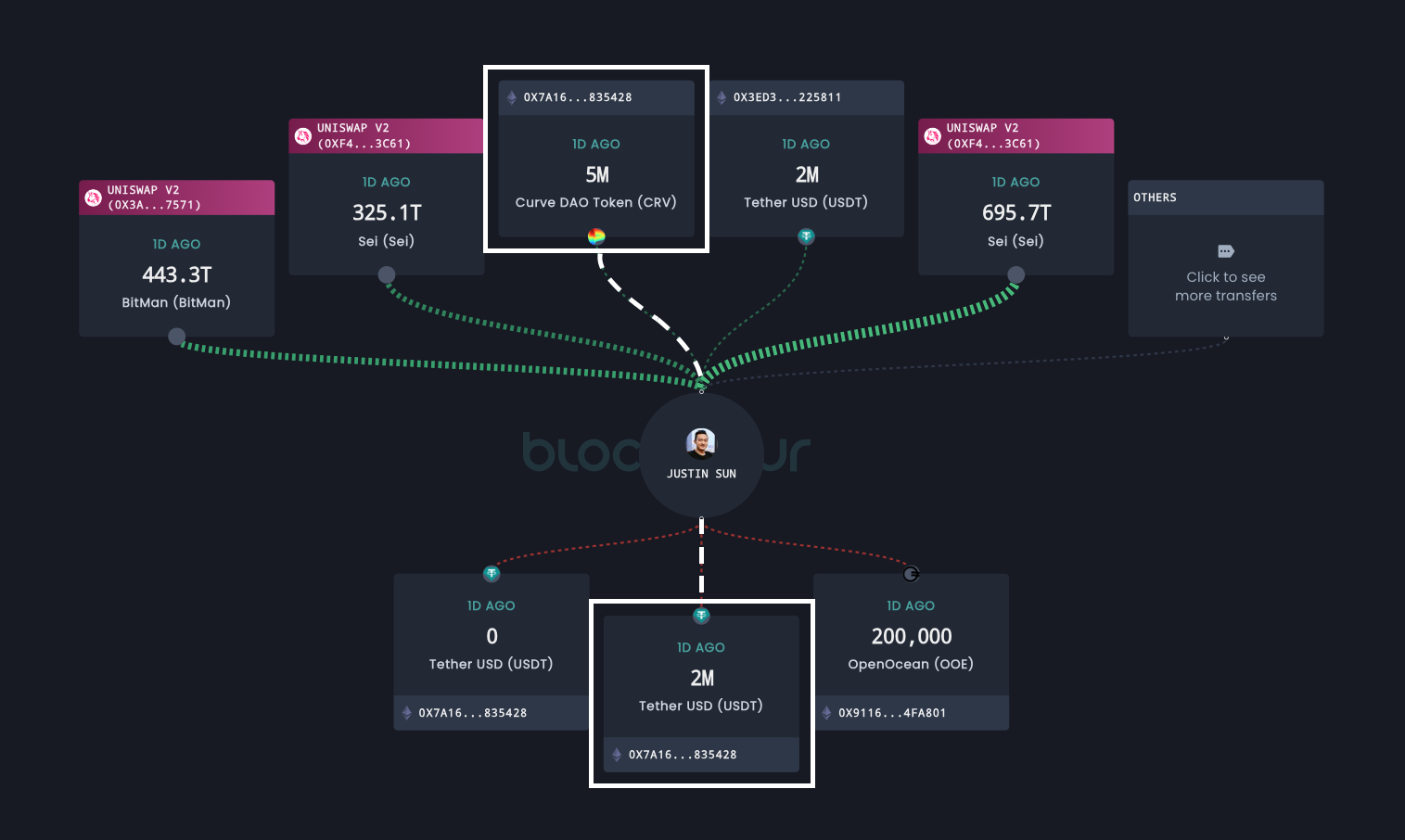 Justin Sun helped Egorov pay down some loans.
Remember Abracadabra was part of this? On Wednesday, the project initiated AIP 13.5 which applied collateral-based interest to its $CRV cauldrons in order to protect it from Egorov's 14 million $MIM debt. He will now pay interest on the tokens he has deposited as collateral. Aave adopted a similar risk-aversion strategy by preventing any new borrowing against $CRV collateral.
Optimism Metrical Volatility
Blockpour has been watching the growth of metrics on the Optimistic Rollup L2 Optimism closely for the past three weeks. The network deserves attention because of the apparent increase in usership and on-chain volatility on one of the largest Ethereum L2 networks.
On July 14, Coinbase's Base network launched its mainnet, and detailed how it was using Optimism's OP Stack in its infrastructure. This announcement sent Optimsim trade volume and average trade size up 324% and 109% respectively from the 11th. Those metrics dropped back to their pre-run up levels the next day.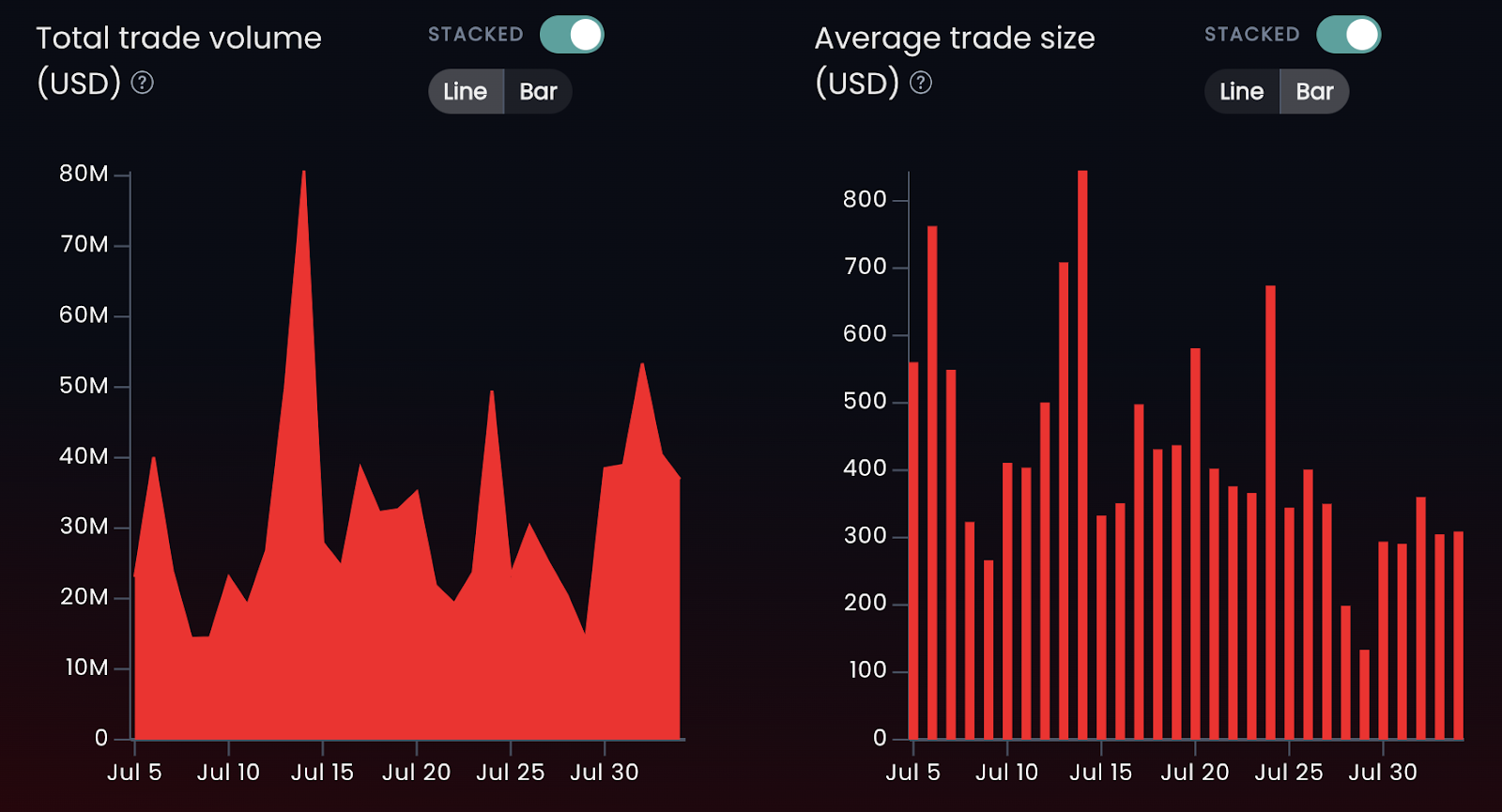 Data on Optimism throughout July.
However, the excitement for Optimism wasn't done yet. On the 24th, Worldcoin's $WLD launched on Optimism, causing another big increase in trade volume, trade size, unique traders, and trade counts on-chain. Traders enjoyed the volatility of the brand new token. So much so that by August 1, 173,207 traders were on Optimism in a single day.
The increase in usership helped the network outpace even Arbitrum in daily trades on the DEXes that Blockpour tracks.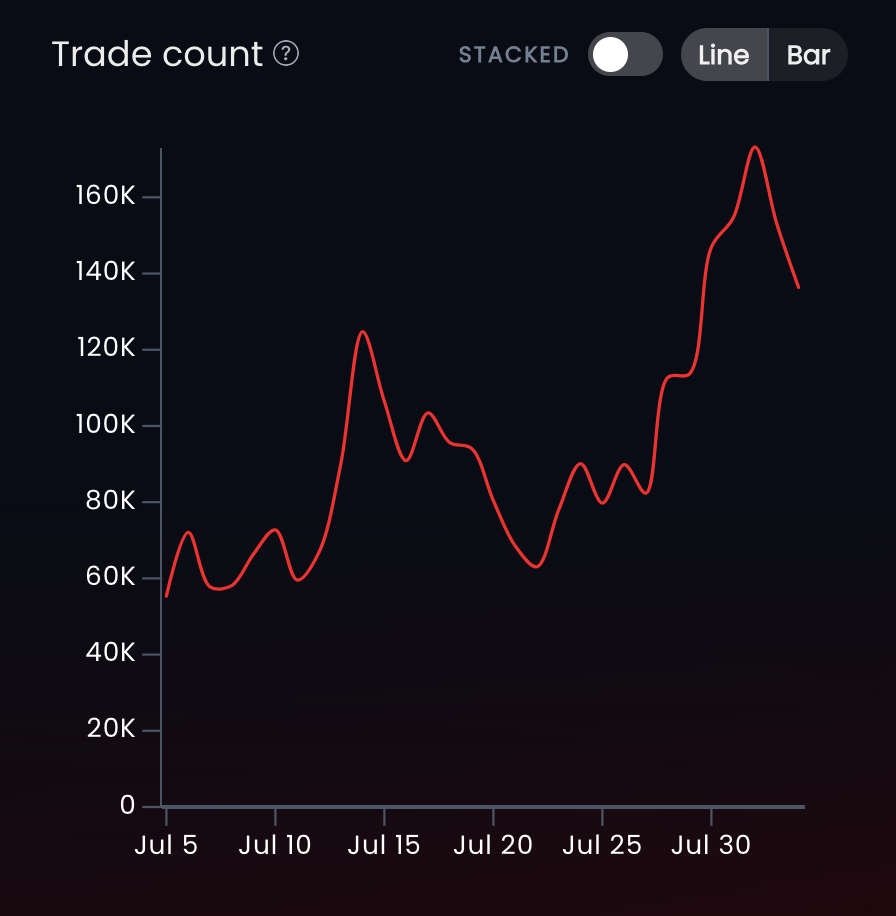 Trade counts on Optimism in July.
$WLD caused a stir at launch thanks to a big marketing campaign from the company behind it. It launched at about $3, but after an initial drop to just under $2, token price has been very slowly regaining ground. At the time of writing, it hovered around $2.31 on-chain.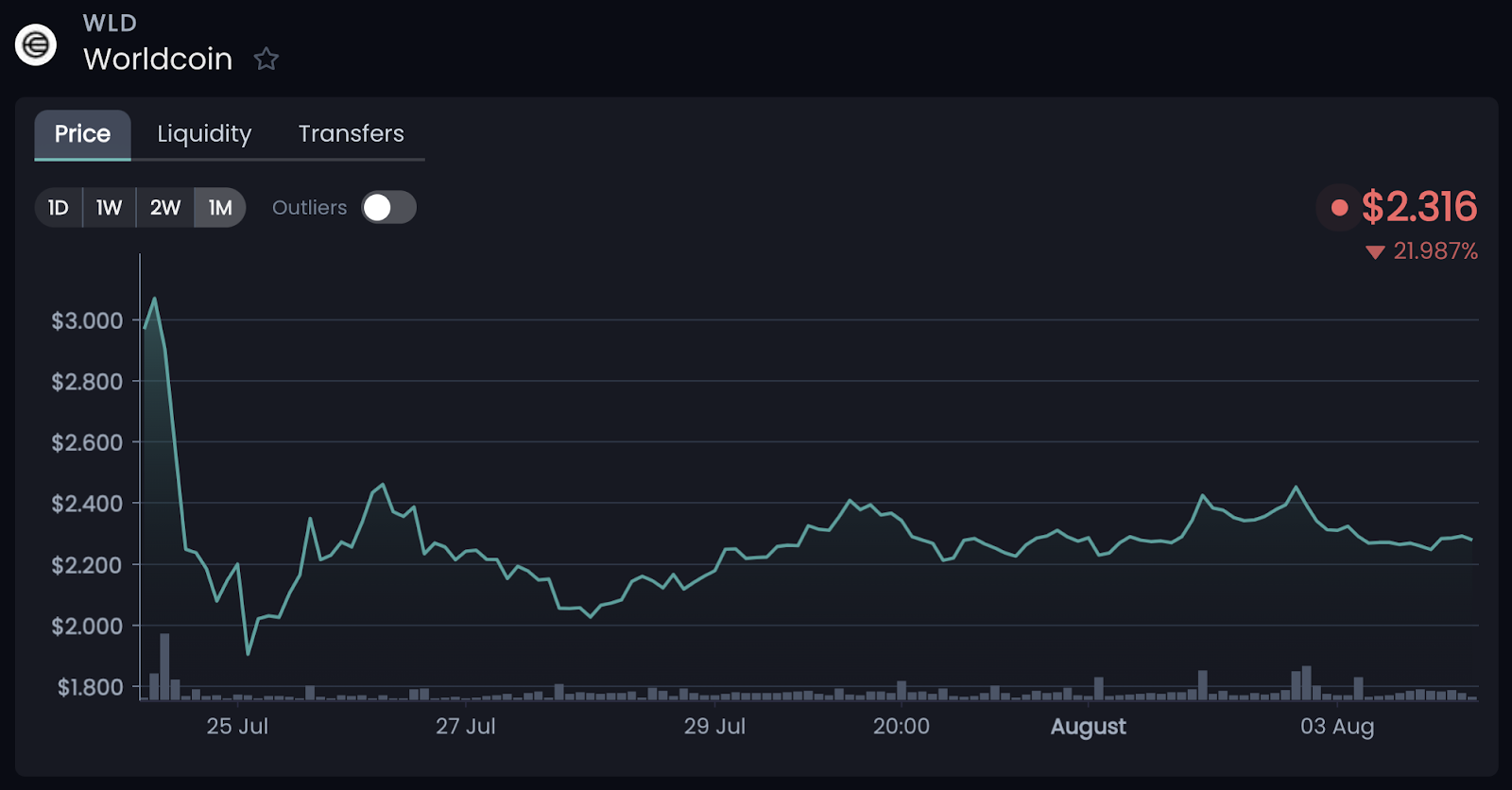 The Worldcoin $WLD chart from July through early August.
Since the 24th, trade counts on $WLD have been surpassed only by $USDC, $WETH, and at times, $OP. Considering that the former two tokens are the base for most trading pairs on the network, including the two main liquidity pools for $WLD, their position in the lead stands to reason.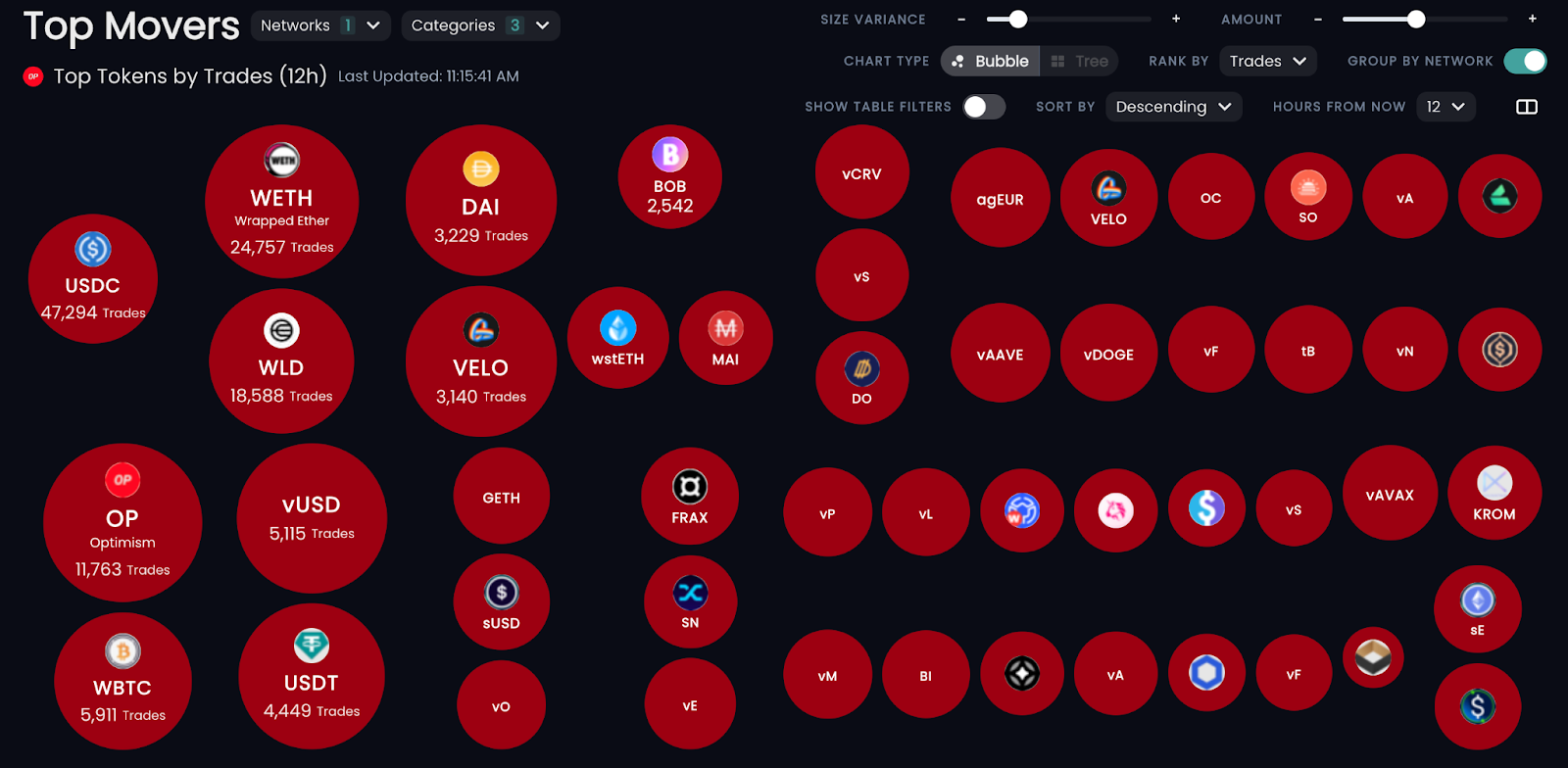 Optimisim network's top moving tokens.
Alpha Pro subscribers have full access to the Top Movers tool to follow the shifting trends on Optimism.
CEX Check: The top ERC-20 tokens transferred at centralized exchanges
This section reviews the ERC-20 token transfer flow trends between 7/28 and 8/3 from the largest centralized exchanges, such as Binance, Coinbase, Bitfinex, and Crypto.com.
This is not the end of the newsletter! We are excited to be featuring an interview with Joe Sticco from Cryptex Finance in the second part of the newsletter. Please read The Mona Lisa Phenomenon to learn about why degens enjoy memecoins!
Blockpour is a technology firm specializing in Web3 data and analytics, offering individuals and businesses indispensable data and tools to navigate the dynamic on-chain universe while bridging seamlessly to the off-chain world.
Through our real-time and historical multi-chain data feeds, businesses and traders can fully unlock the power of blockchain data to inform their strategies, optimize operational efficiency, and drive top-line growth.
The above article is for informational purposes only and is not financial advice. Blockpour is a data aggregation and analytics platform only and does not provide financial advice or services of any kind.