Clear the confusion about how decentralized exchanges function within the DeFi ecosystem.
The cryptocurrency space was born out of the desire to build a decentralized peer-to-peer financial system as an alternative to TradFi that is highly centralized and dependent on intermediaries. The Decentrlalized Finance (DeFi) space aims to bring the industry closer to that lofty goal with the introduction of more dynamic self-custody options, including decentralized exchanges (DEXes).
DEXes now challenge the hegemony of centralized exchanges (CEXes). In 2021, DEXes saw an impressive 8x YoY growth in trading volume to the scale of $1T total volume across all DEXes.
DEX vs. CEX: What's the difference?
A decentralized exchange (DEX) is a platform that utilizes an automated market maker (AMM) to facilitate digital asset trading without relying on a centralized intermediary, whereas a centralized exchange (CEX) is an intermediary that matches crypto buyers to sellers at their desired prices. Trades facilitated by DEXes are typically done without order books; users trade directly through liquidity pools via smart contracts.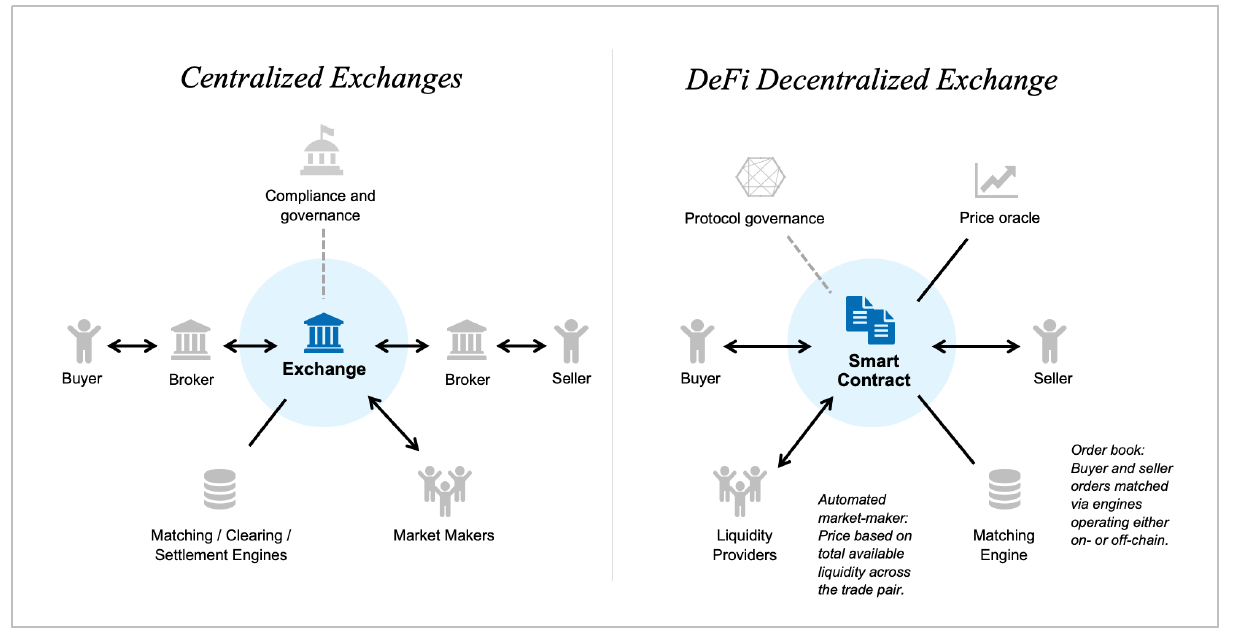 DEXes facilitate trading through smart contracts, which are self-executing pieces of code that operate within blockchain networks such as Ethereum.
Because trades on DEXes are all recorded on-chain, and all on-chain actions have a direct cost to users, it is extremely difficult to 'spoof' orders. In short, blockchain technology adds veracity to the trading data. Additionally, every action taken by traders is publicly visible and tied to a traceable address.

View live DEX trades with $WBNB on Blockpour.
There are three main types of DEXes: Automated Market Makers (AMMs), Order Book DEXes and DEX aggregators. AMMs are the most popular among users as they tend to offer deeper liquidity that gives traders a better price with less slippage. DEXes use algorithms to ensure a fair market and rely on AMMs to determine the price of the assets in the liquidity pool.
A trading pool will include at least one trading pair, and a typical DEX will consist of several liquidity pools with one or several trading pairs. Unlike CEXes, where the digital assets are held in custody by the exchange operator, traders on DEXes remain in custodial control of their funds.
Decentralized data driving trading decisions
With estimates of over 5 million DeFi users in 2021, the industry is witnessing the emergence of DEXs becoming more and more mainstream. Uniswap, whose DEX liquidity and token data is featured on Blockpour, is one of the oldest and largest decentralised exchanges. With TVL on its V3 protocol crossing the $3 billion mark, its popularity amongst traders is evident.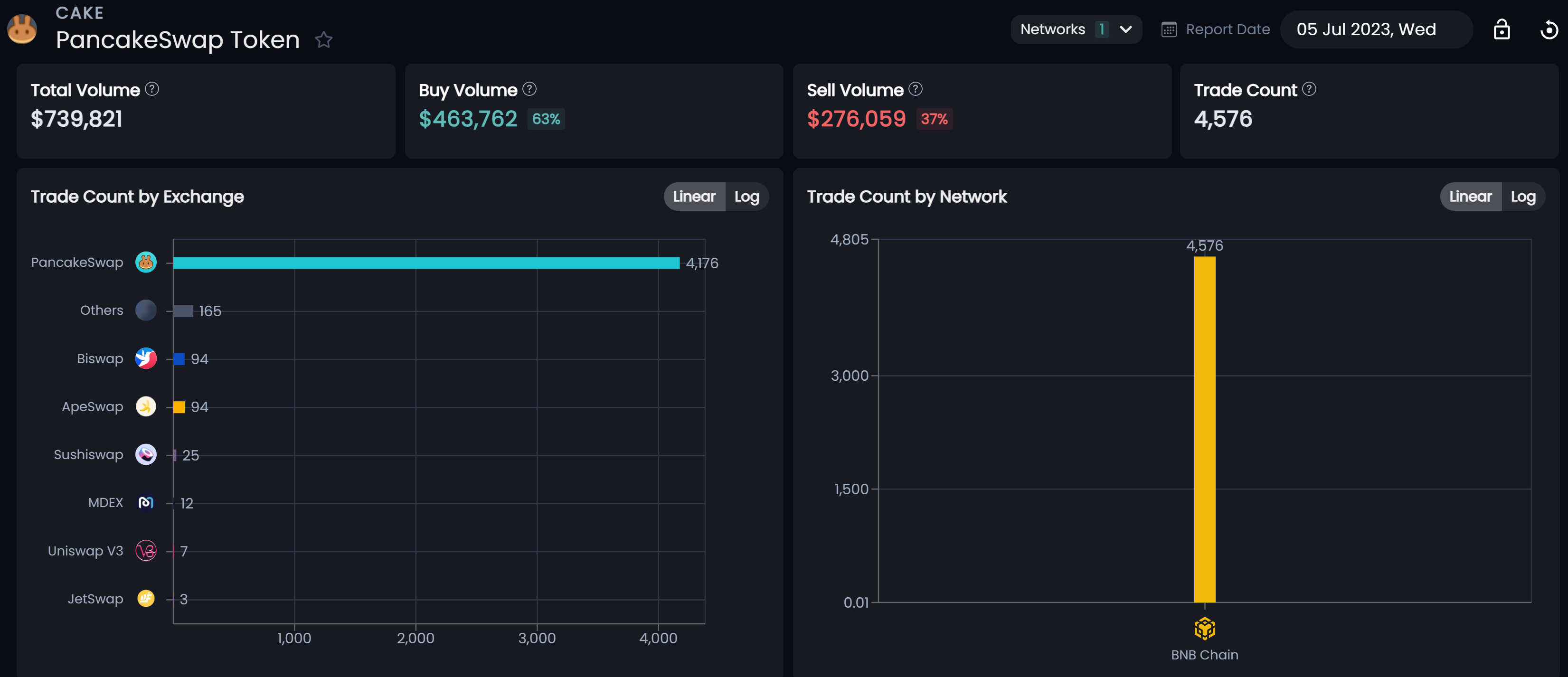 View the $CAKE Trade Report, showing PancakeSwap as the DEX leading trade volume.
Blockour helps traders better analyze DEX trading pairs while increasing their understanding of the ebbs and flows of market effects. Click here to learn more about the key features and benefits of Blockpour today.
Data fragmentation is a serious concern for both retail and institutional users of on-chain trading platforms. By aggregating DeFi data and wallet-to-wallet transaction data, Blockpour is easing the frustrations of users who require the most reliable datasets to lead them to the best trading decisions. The Blockpour front end offers unrivaled flexibility, while the Blockpour API offers power users and institutions the deepest dataset and fastest load times of Web3 data.
Blockpour is a technology firm specializing in Web3 data and analytics, offering individuals and businesses indispensable data and tools to navigate the dynamic on-chain universe while bridging seamlessly to the off-chain world.
Through our real-time and historical multi-chain data feeds, businesses and traders can fully unlock the power of blockchain data to inform their strategies, optimize operational efficiency, and drive top-line growth.
The above article is for informational purposes only and is not financial advice. Blockpour is a data aggregation and analytics platform only that does not, and will never, provide financial advice or services of any kind.